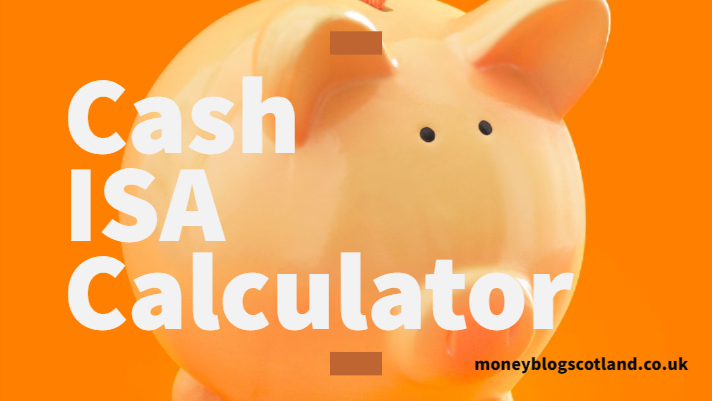 Cash ISA Interest Calculator
Are you interested in opening a Cash ISA account? Using a Cash ISA interest calculator such as the one below can give you a good idea of how compounding can work for you and show the growth rate that you could achieve.
Cash ISA Interest Calculator
Cash ISAs are still a popular way of saving even in these times of record low-interest rates. At the time of writing (November 2019), I have taken a look a the best deals on offer on the Money.co.uk 10 Ten Cash ISAs page.
Interest Rates
The highest interest rate comes in at 1.7%, and the lowest 1.15% – both subject to terms and conditions.
With the current ISA allowance sitting at £20,000 per tax year, would it be advisable to put some of your hard-earned cash to work in a Cash ISA? That's not for me to say and everyone's circumstances and reasons for saving are different.
However, even a cursory glance at the top rate plan on the Money.co.uk list – the 5 Year Fixed Rate Cash ISA from Principality Building Society – reveals that a lump sum deposit of £1,000 would only gain £87.94 in interest over 5 years.
Your Circumstances
So if you have credit card debts or other debts, it would seem sensible to tackle them before putting money into a savings scheme such as this. The calculator below should give you a good idea of what you could earn with a Cash ISA. Why not also take a look at this Stocks and Shares ISA Calculator to compare how the different ISA plans work. also depending on your circumstances, you should check if you are eligible for a Lifetime ISA which could see higher annual growth than a Cash ISA.
The interest rates presented in the calculator are based on the upper and lower rates displayed on the Money.co.uk top ten ISA rates. No advice is provided here and the calculator is purely to give a rough idea to the user of how a Cash ISA works. No charges have been taken into account for this calculator.