What is Trading 212 And How Does It Work?
It's been a month since I dipped my toes into the non-stop frenetic world of investment apps. So what is Trading 212 and how can it help you make some cash?
As you may have learned previously, I downloaded three apps initially to try them out. Trading 212, eToro and Plus 500.
Giving all of them a quick run-through, I felt most comfortable with Trading 212.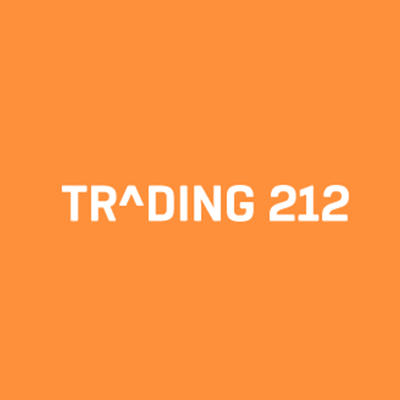 Into the bargain, Trading 212 allows you to start investing from as little as £1 and there's also a referral scheme where you and your referral partner each get a payment of £100 worth of shares when your partner makes a deposit. Although, I've yet to convince any friends to sign up. Read my original article here – it's called Best Investment Apps UK.
How has it been?
My first week trading was fairly tumultuous.
I picked Tesla shares in both my real money account and my practice account.
As you may have seen in the news, the tech sector market has been all over the place and my account balance had something of a roller coaster ride.
My Tesla shares soared to over 10% profit in a matter of days, then after about a week, mysteriously vanished from my portfolio.
I'm still not sure what happened here. This occurred when the price crashed and my Tesla money was deposited back into my account as free funds.
The price has plummeted now to a loss of 8%.
Of course, this is all small beans when you consider the small sums I have in my account currently. Read my in-depth Trading 212 review here where I look at the performance of my account after 4 months.
Trading 212 Demo Account
However, the practice account tells a cautionary tale. My Tesla shares here have lost a staggering £17,000 in less than a month. A great illustration surely of why anyone should diversify their portfolio.
In contrast, my Zoom shares have made over £9,000 of pretend money.
In all seriousness, this has been a great lesson and something of a baptism of fire in using trading apps and the general nature of stocks and shares investing.
The first week of my trading saw massive gains for Tesla and all tech stocks.
In fact, Tesla was streaming ahead and another stick I purchased, Beyond Meat was way down.
Incredibly there had been a 360-degree turnaround and Tesla is my worst performing stock with Beyond Meat way out in front with a return of 16%.
Again just to the emphasize, there's nothing like actually getting stuck in and getting your fingers burned with something to teach you some real-life rules.
You can do all the reading and studying the form that you want.
But you need that real-life experience under your belt to really know what's what.
The great thing about these new investment apps is that there is a practice area where you can see how large sums of money would perform with your investment choices.
Trading 212 also has the added benefit that you can start off small as I did with a sum such as £25 and see how you go.
Setting Up An Investment Pie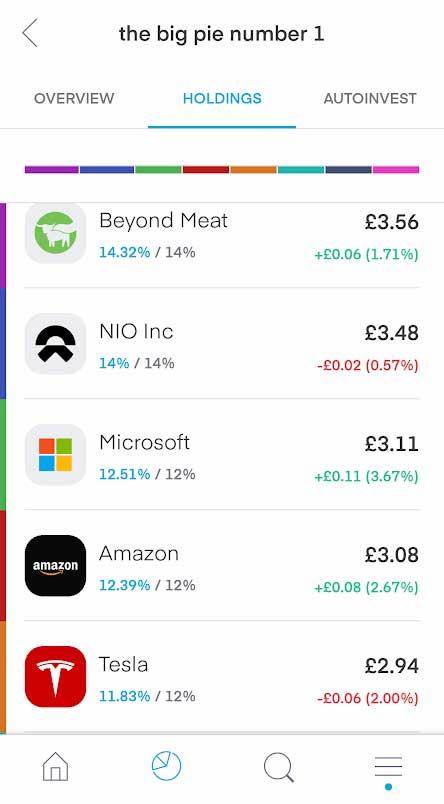 Ongoing I have used another feature of the app to set up what's called an investment pie.
With this feature, you can set up a portfolio of stocks and allocate the percentage of your regular investments to each stock.
I have selected 8 stocks for this particular pie. There is also a value projection, reinvestment options and a number of other features available.
This looks like a good way of proceeding and I have set up a monthly payment into this plan.
The investment projection stands at an impressive £24k from a £3k investment over 10 years, so I will obviously be following this closely.
All in all in really impressed with not just trading 312, but the whole array of apps on offer today.
It's making investing so easy for anyone with a few pounds to spare.
is trading 212 safe?
Do accounts lose money? Yes as is the very nature of real stocks and shares and investments, the value of your funds can go down as well as up, and if you are picking volatile stocks, you could lose a lot of money.
On the upside, this really is a first class mobile app and trading platform. And as should be expected, Trading 212 are regulated by the Financial Conduct Authority which covers investors for up to £85,000 should they go out of business.
The minimum deposit of only £1 and the demo account are great features which I have utilised and should be a draw for any novices.
It's extremely easy to get up and running and start trading after your initial security checks.
Trading 212, like many of their competitors, also offer zero commission trading.
Do you use investment or trading apps? If so what's your preference and why? Comment below.