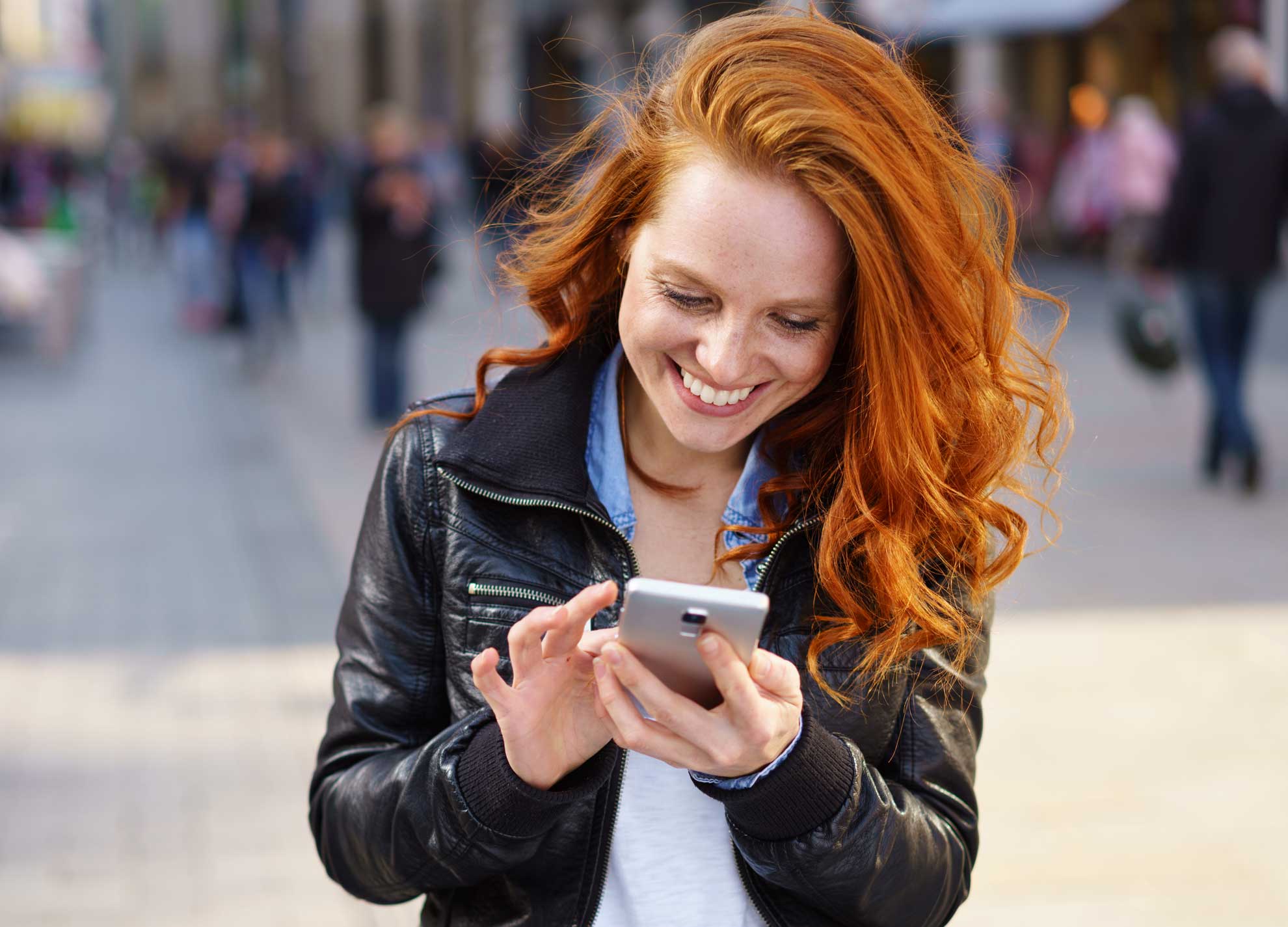 22 Best Apps To Make Money UK
Making money from your phone is not a fantasy anymore, it's a reality. There are loads of money making apps out there right now that will pay you for shopping, answering surveys or performing small tasks such as taking pictures or watching videos. Great for money-saving or money earning, if you need to earn cash and don't want to put too much effort in, then read our guide on money-making apps (UK).
For simplicity's sake, we have selected what we believe to be the 21 best apps that pay you on the market today, all available in the UK and separated them into 3 distinct categories. We'll be looking at the 22 apps below. Download them from the Google Play Store or the Apple App Store.
The best thing is that most of these apps are so quick and easy to use. Got five minutes to spare waiting for the bus? Open up one of these money apps, and see how much you can make! You'll be surprised how much a few minutes here and there can add up.
Tasking Apps
Tasking Apps give you small jobs including surveys, cashback, mystery shopping, watching videos and playing games.
1. Roamler
Roamler is a tasking app, which means you will be set small tasks in exchange for a cash reward.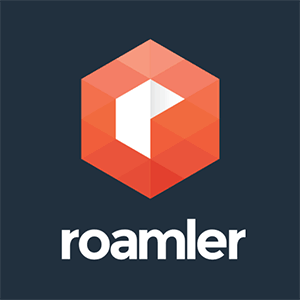 The tasks in Roamler are divided into categories as follows; Checks, Mystery, Couch, Experienced, Training and other.
An example of a Check task is as below:
"You must go to the Italian Sauces aisle of the store and count the number of bays with Italian Sauces, Traditional Sauces & Food plus Rice & Grains. This will also include Pizza bases.. You will then take 1 photo per bay overview photos of each section making sure that all relevant bays are visible in the photos."
So as you can see, it's quite full-on. This particular task pays out a reasonably generous £7. In order to make the best returns, owning a car would be essential as any public transport fares would wipe out your profits pretty quickly.
Mystery tasks are where you will act as a mystery shopper in a store or restaurant. You will more than likely have to take photographs when visiting the destination then answer questions relating to your visit and experience. Current mystery tasks on my dashboard pay from £7 – £12.
Couch tasks mostly involve accepting a task before you order a takeaway meal and pay up to £10.
Experience and training tasks can be a real mixed bag and none of these currently on my dashboard offer cash incentives. You can however earn XP (Experience Points), which can increase your level and lead to getting better tasks
---
2. Premise App
Premise is a relatively new app that offers a number of ways of earning.

Locate available tasks by pressing the 'Market' button. Within this section, you will see tabs labelled Survey, Locate and Explore.
The Survey section does what it says on the tin. Three to four minute surveys paying up to 10 pence per go. These are fairly high-level surveys from what I've seen. I've just answered one on the subject of foreign governments and their effects on my own country.
Running down the list, there are other questions on Covid-19, health and wellness and financial institutions.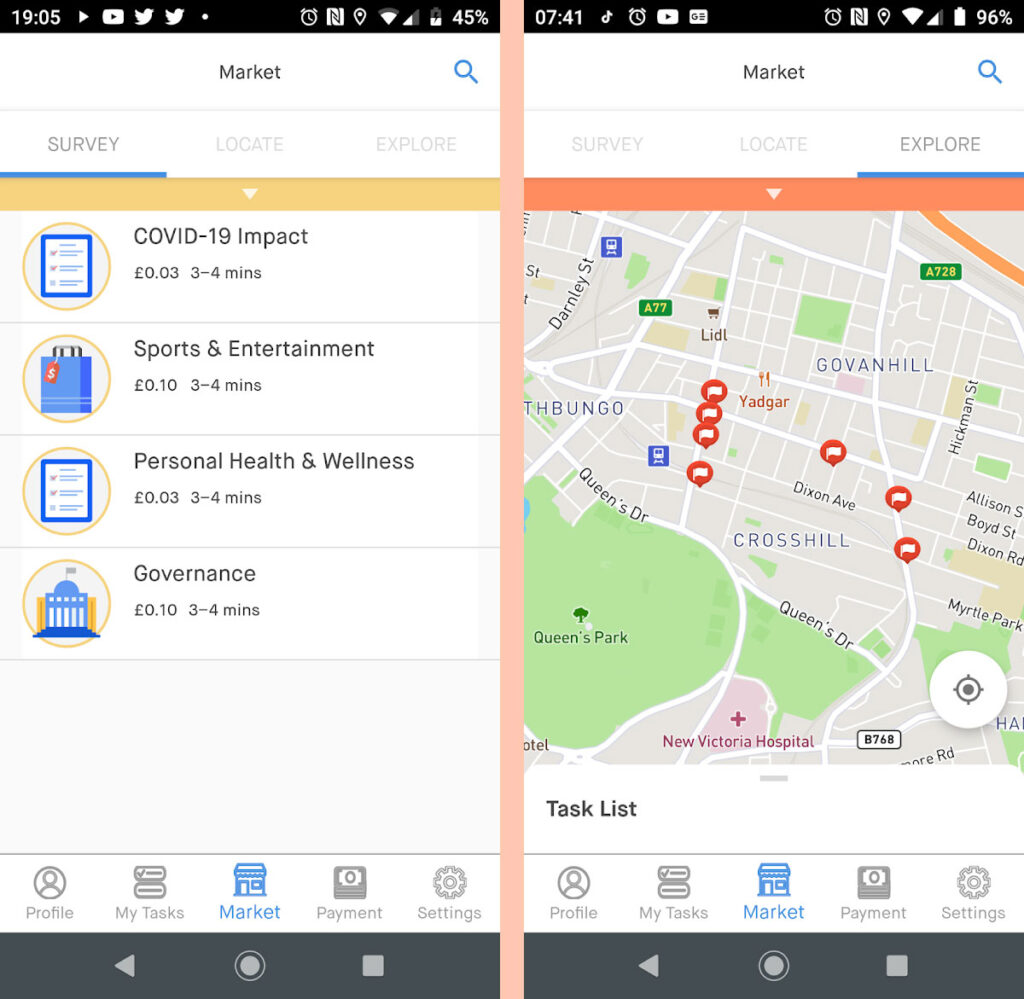 The surveys require some thought so you can't really zip through them.
Locate tasks ask you to report on items or places that you find.
This task works by asking you to locate and take a picture of a certain building or place, for example, a currency exchange. The payment for this task is 50p.
The third tab is titled Explore.
On this tab, you will see a map which you can zoom around to look for tasks. All the tasks I've seen so far have concerned Western Union.
The task description is as follows; Verify the location of a Western Union in your area, take a photo of its operational hours and answer a few additional questions. If the location is open, ask an agent about the services they offer.
If you don't find a Western Union location or it's temporarily closed, don't worry, you'll still be paid for the task, just not the full amount. If it's temporarily closed, you'll find a follow-up task at the same location.
The payout for this task is a generous £12.02. This will be for completing all parts of the task. You will earn less if you only complete the task partially.
In summary, Premise offers a range of ways to earn. But you'll probably get the best value if you live in the city as many of the 'Explore' and 'Locate'  tasks will require some travel.
The minimum payout in the UK is £7.00 and you can be paid via PayPal or Coinbase.
---
3. Be My Eye
Be My Eye is another tasking app. However, it doesn't have the same scope as Roamler.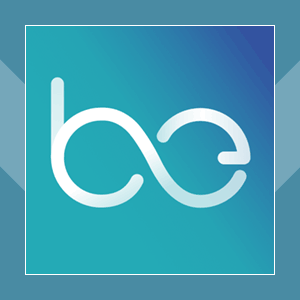 The closest task I've been given is 11 kilometres away and the majority seem to relate to the chemists' chain Boots.
I even have tasks listed in Edinburgh and Northern Ireland, so I'm unlikely to get moving with this particular app.
---
4. Field Agent
Field Agent is another mystery shopping app with lots of opportunities to get paid by snapping products in shops. Using Field Agent can involve taking surveys, doing store audits, which can involve taking photos of in-store displays and answering questions on products, displays and more mystery shopping.
---
Which Apps Make You Money from Ads and Surveys?
Citizen Me, Swagbucks, Google Opinion Rewards and Slidejoy are great apps if you have some spare time. You can answer surveys or get paid for watching adverts every time you unlock your phone. These are some of the best money making Apps in the UK..
5. Swagbucks
You have probably heard of Swagbucks before. It was one of the original money-making websites founded way back in 2008, and claims to have paid back over £1m to its customers over the years. It now, of course, has its own app.

You earn Swagbucks shortened to SBs through performing various tasks such as watching videos or taking part in polls or surveys. Each Swagbuck is worth 1p and can be exchanged for vouchers once you have reached a threshold.
Swagbucks also partner with big-name brands such as Amazon, Starbucks, and Best Buy to offer their customers more options to earn and cashback shopping is also part of the deal. Users are paid with voucher cards for stores such as Amazon or with a deposit to your PayPal account.
---
6. Citizen Me
Citizen Me works by asking you short personal surveys in exchange for payment. The survey questions can include your employment situation, family situation and so on.
There are also more in-depth surveys on as wide-ranging topics as OCD, self-esteem, mental health, astrology, and chips! You are in effect selling your personal data anonymously in exchange for cash rewards which can be deposited in your PayPal account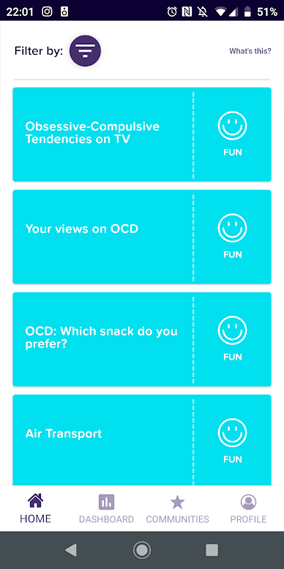 Unlike other apps, you don't have to build up to a threshold such as £5 before being reimbursed and can get small amounts of 10p, 30p or 50p paid straight into your PayPal account right after answering a few short questions, which is nice. The best payout I have had is £4.76 – straight into my PayPal account for taking a ten-minute survey.
---
7. Qmee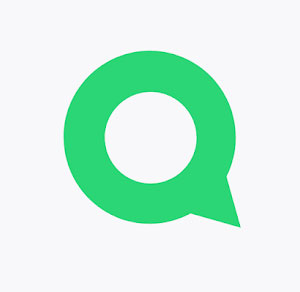 Qmee is a popular survey app that partners with some of the big names in the survey world such as Ipsos. Qmee gets some great reviews from users, however, my own personal experience had been less than great.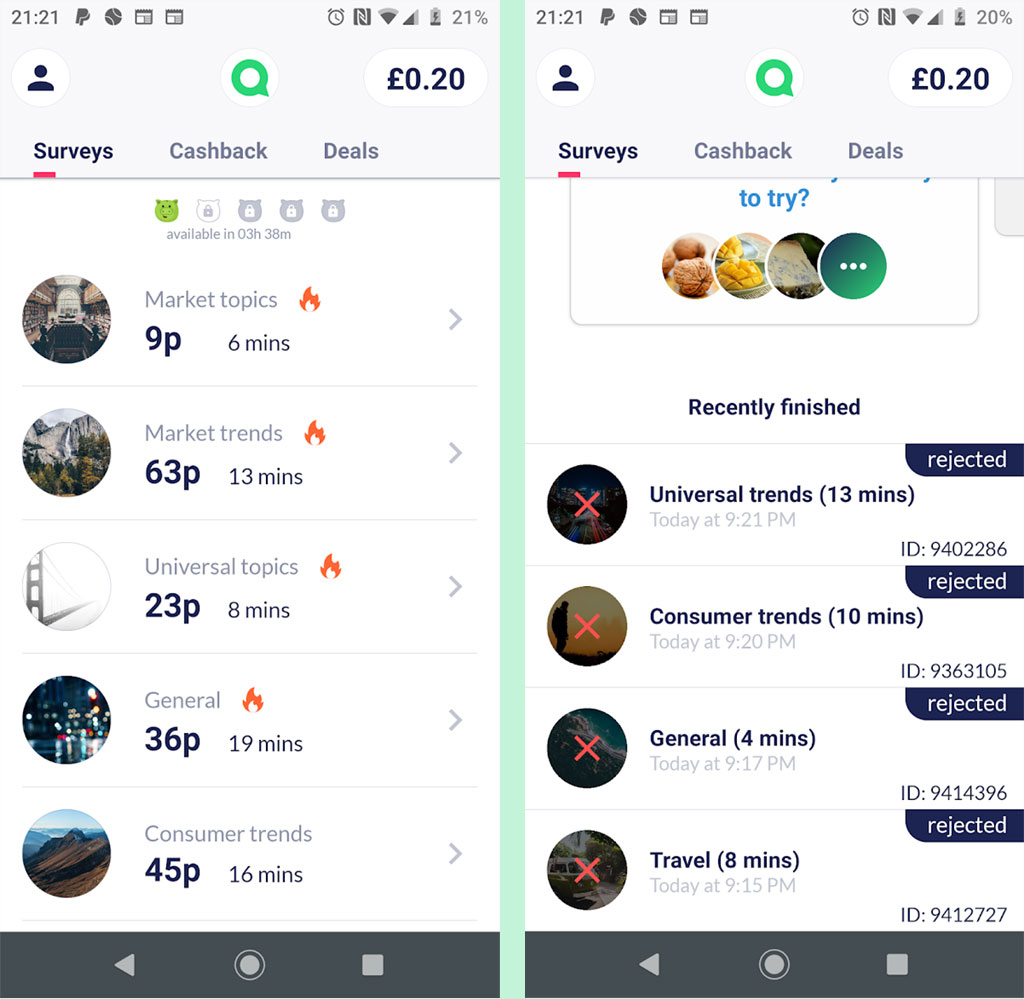 The first survey I tried was taking so long (around 20 minutes) that I had to just close it. I have since tried four or five more surveys, but after a preliminary round of questioning, I am told that my survey has been rejected and I get no money for the few minutes I have spent on it. I have only had one survey approved after starting six or seven with a grand total of 20p earned.
Qmee tries to engage its users by encouraging them to go on a 'streak'. This can be done by answering a simple poll every day, which in turn, should increase earning potential for surveys. As survey apps go, Qmee can take a lot of time for little reward. That's my experience anyway. Try Google Opinion Rewards or Citizen Me for an easier survey experience.
---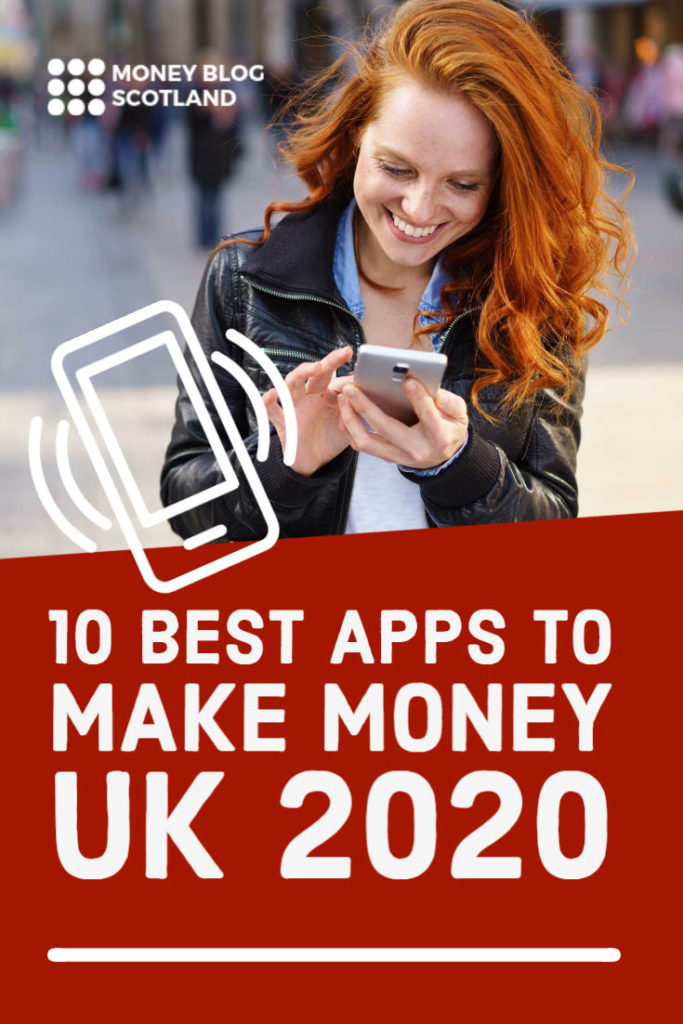 ---
8. Google Opinion Rewards
Google Opinion Rewards asks you short surveys (usually 3 or 4 questions tops), which take seconds to complete. You accumulate funds that can only be spent on Google Play products – so you can use for music, movies, apps, etc. I have been using this for about a year now and have earned just over £14. So – the earning potential isn't great, but the surveys are super quick and easy to do, and the Google brand brings with it a sense of assurance.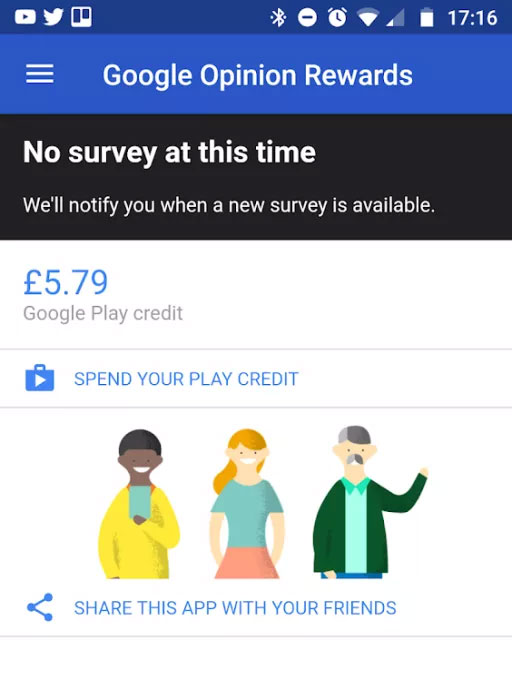 ---
9. Slidejoy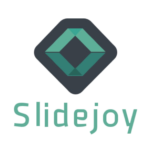 With Slidejoy, you'll see an ad featuring news or promotions pop up on your lock screen whenever you check your phone. You can swipe left to learn more, swipe up for more ads, or swipe right to ignore. You earn money by accumulating 'Carats' – and the current rate is 1,000 carats = $1.
---
10. Pinecone Research

Pinecone Research collects data for market research. You'll only be notified when a survey meets your demographic. They pay £3.00 per survey, and each one takes about 10 to 15 minutes. This is a great rate compared to other survey companies.
---
11. Toluna
Toluna is a well-known paid survey company that mainly does market research for big brands including Amazon, Kellogg's and Coca-Cola to name a few. Earn points by sharing your opinions and answering surveys on brands and services. Your opinions feed back to the brands via Toluna with the aim of improving services for everyone.
Toluna pay outs come in the form of PayPal payments or Amazon gift cards.
---
12. Neilsen
Neilsen is a well-known company in market research and has been in the surveys game for over 90 years. World-leaders in this field, their reach now extends to mobile apps.
This app works by firstly having you install it on your mobile device. It then transmits information back to Neilsen detailing your demographics and internet browsing habits including time spent on websites etc.
Needless to say, it will be transmitting sensitive personal data, but will not collect user IDs or passwords. Be careful though as a number of the reviews on the Google Play Store speak of a reduction in device performance after installing the app.
---
Which Apps Pay You for Performing a Job?
Crowdville, Foap and Spare 5 will all pay you for performing tasks.
If you feel like going the extra mile, these are the best apps to make money from "job" opportunities with some juicy rewards.
13. Crowdville
Crowdville is relatively new to the UK, having previously been established in Italy where it claims over 30,000 members. Crowdville users are called 'Crowders' and can 'contribute to the creation and improvement of digital products and services' according to their website.
Once signed up, you are given 'missions' which can involve providing feedback to participating companies on their products or apps. In some cases, you are acting as a product tester for new services. Watch the video below for an overview of Crowdville. So if you are particularly interested in new technologies and are super keen on tech, this could be a great app to try out.
---
14. Spare5
Spare 5 pays you to carry out various micro-tasks. I've had tasks such as captioning photos and writing questions for a customer service bot. The tasks typically help programmers to develop new apps and technology, so it's quite exciting to help out! You'll be paid every week as long as your balance is over £1.
Most of the tasks don't pay a lot, but they only take a few seconds to complete.
---
15. Foap
Get paid for taking pictures. That's right, with Foap you can make up to 5 pounds for every picture you sell. You can also enter to win rewards of up to £100 by joining "missions," where users are tasked with submitting pictures of specific items or scenes.
---
16. TaskRabbit & Handy
TaskRabbit & Handy work in similar ways. They can both help you to find paying odd jobs such as handyman work, help with moving house, cleaning work and chores. Some have a small joining fee.
---
17. StreetBees
If you are looking to make cash rather than redeem gift vouchers, another task-based App is Streetbees. This is another market research app. Tasks can be anything from recording short videos of you using a product, survey-based tasks, or tasks that involve taking photos – perhaps of a coffee machine you have and how you use it. You can earn around £1 for a quick 5-minute task.
StreetBees has a super impressive website showcasing their work and the brands they partner with.
---
18. Gigwalk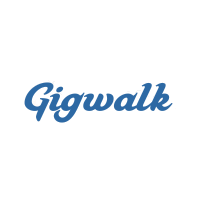 If you live in a busy area with plenty of shops and retail outlets near you, you could earn extra money using Gigwalk. This App is used as a market research tool by leading companies checking shops and stock availability. Best to use for making some extra money if you are out and about. Money is paid straight to your PayPal account and t then you can transfer your extra cash to your bank account.
---
Which Receipt Scanning Apps Are Best?
Get paid for scanning shop receipts by using the apps Shoppix and Shopkick.
19. Shoppix

With Shoppix, you can earn points just for uploading pictures of your receipts after shopping. Once you get enough points you can cash out via PayPal or receive Amazon vouchers, iTunes vouchers or Love2Shop vouchers.
The receipt must be printed (not handwritten) and unmodified. The receipt must clearly show:
The shop or service provider
The date which MUST be within the last seven days of you snapping the receipt
The items or services paid for
The total price paid
You get tokens for each receipt – up to 30 receipts each week. The terms state that some receipts may not be accepted – but snap them all anyway.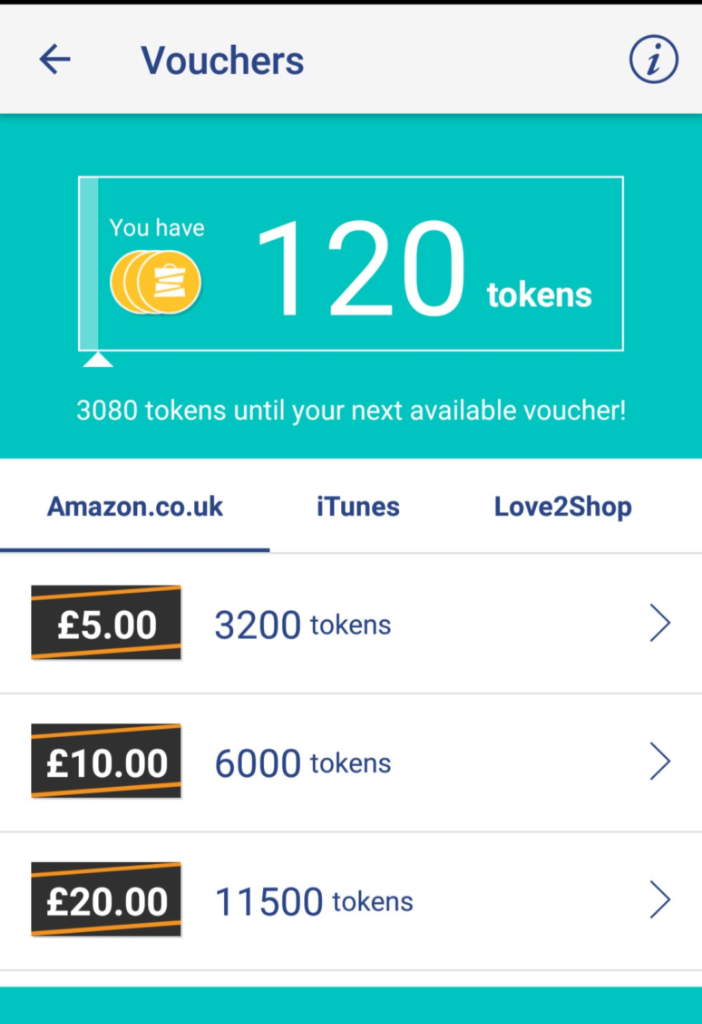 20. Shopkick
Shopkick is another receipt scanning app, but you also earn by scanning items in a store. You can earn around 10 to 50 points just by scanning items and walking into stores – no purchases necessary. When you buy certain items online and in-store, you'll earn even more points. You can start cashing out for £2.00 gift cards for only 500 points.
---
Any other money-making ideas for me?
21. AirTime Rewards
A neat way to help pay your monthly mobile phone bill is to earn money using Airtime Rewards. You receive cashback on your shopping, which is linked directly to pay off your monthly phone bill.
---
22. Acorns
Finally, I'd like to mention my personal favourite money making app, which doesn't quite fit into any of the above categories. Acorns is a unique app that pays you to invest your spare change. They use your change – we're talking pennies – and invest in the stock market. You can also link your credit cards, round up your purchases to the nearest dollar, and Acorns saves your spare change for you.
You really can save money or make free money with some or all of the deals mentioned in this guide. So what are you waiting for? Looking for more great app ideas? Check out our article on the 10 best money saving apps UK users can download.
---
Resources: