Blogging, book-keeping, crafting, web design and tutoring are all great jobs for stay at home mums. There are dozens of ways of earning some extra cash while you are bringing up your young family – keep reading to find out what you can earn and where to find the best jobs for stay at home mums.
Benefits of working at home
It's the perfect solution to bringing up your young children, juggling childcare yet still keeping your career active and bringing in an income. Flexible work at home options are more popular than ever now with job sites available specifically for home-based jobs for mums at home. And of course, there is no commuting to factor into your day and you won't miss out on the important parts of your little one's life. Yet you could still be bringing in a part-time income of up to £10k-£15k a year, or more.
How can I earn money as a stay at home mum?
From freelance writing to graphic design and accountancy work, there are lots of options if you know where to work. PeoplePerhour and Fiver are great starting points – set up your profile and bid for jobs. Expect to earn anything from £8-£20 per hour depending on the job role. Jobs are sometimes advertised at a set rate and you will lose a small fee that the job site takes, but it is a great starting point.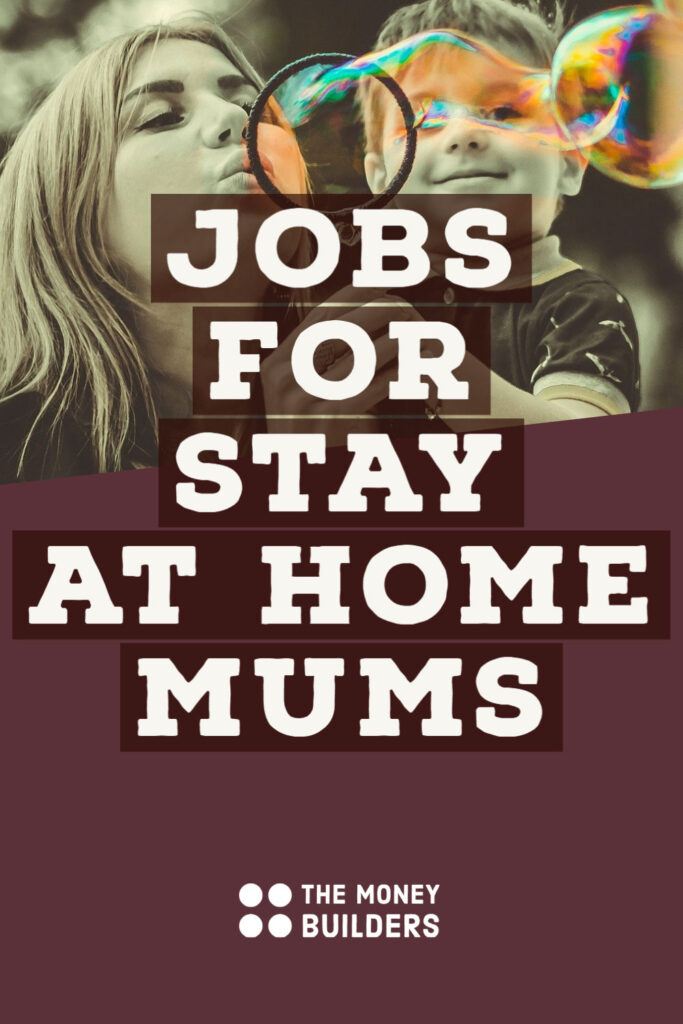 Home-based jobs for Mums
Childcare – There are no specific qualifications to become a childminder, but you will need to take a paediatric first aid course, be DBS checked (at your own expense) and register with Ofsted. But you can then start to earn around £3-£4 per hour per child that you look after. There are limits to the ratio and age numbers you can look after, but this is an ideal option for bringing in extra money at home and still being with your children. For more information visit theworkingparents.com
Virtual Assistants, Data entry and transcribing work is quite sought after – imagine all those YouTube videos and Podcasts that need transcribing. Check out Upwork and PeoplePerHour. Expect to earn around £10 per hour (less service fees). As a VA you could be undertaking research for your customer, replying to Instagram posts or running their Twitter feed.
Customer Service Assistant – Many companies now employ their customer service teams at home. You'll need a PC, possibly a headphone set and piece and quiet! Not always easy but you could find evening work that suits you whilst our little ones are asleep. Expect to earn £8-£12 per hour.
Ironing – charge by the load or item. Factor in any delivery/collection fees and pop leaflets through neighbours doors advertising your service. Charge up to £3 per shirt, 50p for smaller items, or charge by the load. Expect to earn £8-£12 per hour running an ironing service. You'll benefit from investing in a decent iron and ironing board. Click here for more information.
Dog walker – Get paid to keep fit running a dog walking business. It has been claimed you could make up to £60 per hour walking dogs – but you would need to be a very confident dog handler to take out 4 or 5 dogs at a time. For a calmer doggy experience, you can charge £10-£15 for walking one dog for up to an hour. Be prepared to deal with other dogs en-route and also to clean up any dog mess.
Music teacher – Depending on your skills and the local competition, you could offer music lessons at your home. Offer singing, guitar or piano lessons and expect to earn £15-£25 per hour. You'll benefit from taking out personal liability insurance and having a DBS check.
There's lots of advice and inspiration at MumpreneurUK for running a home-based business.
Best paying work from home jobs for mums
Freelance writing, accountancy and graphic design are said to be some of the best paying jobs for stay at home mums. Get in touch with previous employers, friends and look on job boards for flexible working options. You could earn up to £100 for a graphic design or more for PR and marketing jobs on PeoplePerHour.com.
Side Hustles For Mums
Selling stuff on Amazon – become an Amazon seller and search charity shops and buy cheap and re-sell. Bundles of kids clothes and books sell well. Be clear on your postage costs.
Create an online course where your customers pay for your knowledge through a course – sites such as Teachable can help you. Setting up a course can cost from $29 per month but with a good number of customers, your earning potential is endless. Teach art, writing, music, baking, health and wellness. You can charge up to $100 for one course – per customer. Find out more at Teachable.com.
And if you like teaching, consider becoming a Tutor – you can teach English online, or help children with their maths work. You can charge around £30 an hour for 1:1 tutoring which you can do after school and at weekends.
Write and sell an ebook, if you are knowledgeable in a particular subject, share it with other customers. There are lots of free tools available and you can expect to earn £1-£5 per book.
Match Betting is fairly new and according to sources is a good way of earning extra money in your spare time. There's lots of advice online, where it's claimed you can earn £1k-£2k a month doing it full time.
Canva – teach yourself how to use Canva and charge around £10 for producing creative infographics.
Mystery Shopping – earn £7-£15 per assignment for checking our retail outlets. You'll need a camera phone and be good at asking questions and retaining information. Check out our article on becoming a mystery shopper for more details.
What are the best search sites to find jobs for stay at home mums?
WorkingMums.co.uk currently has over 1,500 part-time and flexible jobs, including advice, training & courses, support and franchise jobs across all sectors from construction to accountancy.
Mintio.co.uk Sign up for job alerts and upload your CV and search through over 129,500 jobs. Also offers support and advice on jobs at home such as Match Betting and selling your photographs.
The recruitment agency Reed.co.uk has a section to search for work at home jobs, with salaries up to £40,000 on offer. Industries range from retail to insurance – all based at home.
Benefits
Depending on your salary, working hours and status you may still be able to claim benefits, including free prescriptions and school meals. Click here for more information.