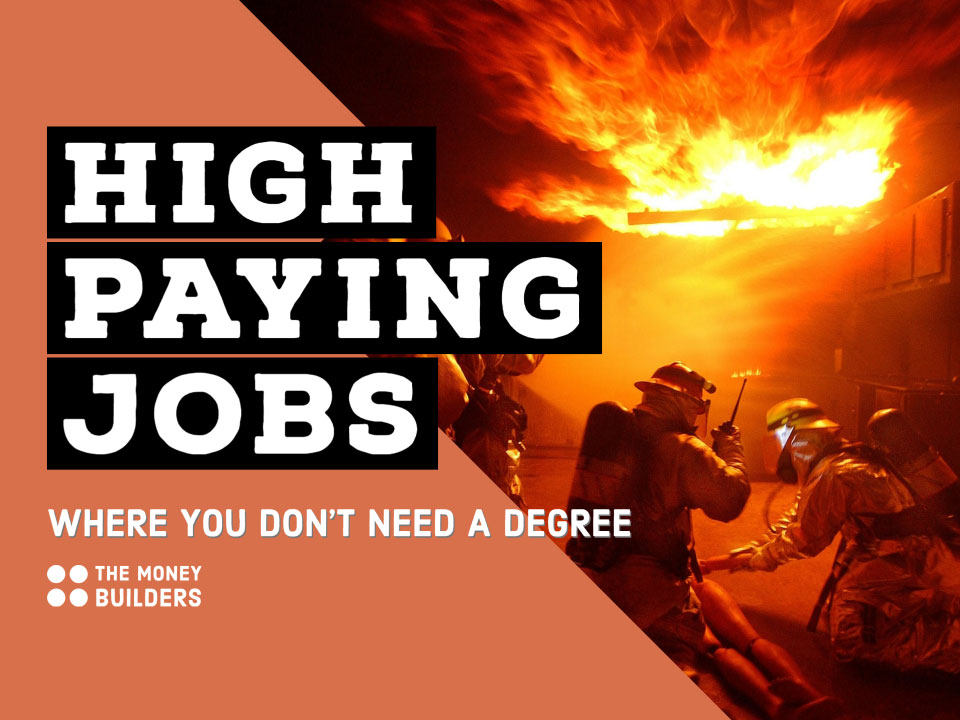 The Highest Paying UK Jobs You Don't Need A Degree For (2022)
You would be forgiven for thinking that the only route to success for a young person in this day and age would be through university. However, there are almost unlimited high paying jobs without a degree UK youngsters can aspire to.
Do I need a University Degree to get a job?
You may think that to earn good money, you need a degree. Not so. There are many well-respected positions where other skills and qualifications are considered, and you can still earn a great salary even though you don't have a degree.
High paying jobs without a degree (UK) where you could earn up to £80,000 per year.
Firefighters, Construction Managers, Police Constables, and Train Drivers can earn up to £50,000 per annum without a degree. Characteristics such as life skills, critical thinking, or the ability to follow procedures are often looked at for particular jobs. In fact, not having a University Degree shouldn't hold you back, you can certainly still access some of the highest paid jobs in the UK.
Is there a selection process involved for some jobs?
Yes, many industries may have a selection process and you might have to take a series of written tests, fitness or aptitude tests for the job role and some entry-level jobs offer training too. There really is nothing stopping you.
Just because you haven't been to University, it doesn't mean you can't build a good career (and you won't have mountains of student debt either). You may show a strong aptitude in maths, science, or healthcare, which could be relevant to your chosen job field.
So let's look at some job roles….
---
Firefighter
An entry-level firefighter could earn around £22,000. Firefighter wages follow a national salary structure, meaning that regardless of where in the UK you're located, wages will remain the same.
You could take a Level 2 or 3 Diploma in Public Services before applying to the fire service, although this is not essential. You could also improve your chances of being taken on within the fire service by getting a Heavy Goods Vehicle (HGV) licence for driving fire engines.
You could work your way up to be earning £40,000-£50,000 as a manager in the Fire Service, particularly in London where you will find some of the highest paid jobs. Any volunteering or relevant work experience will all help you with the entry requirements. Find out more about becoming a Firefighter here.
---
Police officer
Although a university degree can be a route into the police force, there are other ways to gain entry into the force.
Prospective policemen or women can start in an apprenticeship by studying towards a PCDA (Police Constable Degree Apprenticeship), a work-based programme. Find out more here.
You can also apply directly to the police force you wish to join. If successful, you'll need to go through an interview process, take some tests including written and physical tests, and have medical and eyesight tests and security and background checks.

Young people in England and Wales aged between 13 and 18 also can join the Police Cadets, which can be a rewarding and challenging experience for young people from all backgrounds. In Scotland, cadets are known as Police Scotland Youth Volunteers.
---
How much could I earn working in Construction?
Construction Manager
As a Construction Manager, you'll be responsible for managing projects undertaken by labourers and builders, often on multiple sites. Some of the UK's highest-paid jobs are within Construction.
You could earn up to £52,000 per year as a Construction Manager, with this career option offering multiple entry levels to work your way up the career ladder. The construction industry is a great area where you can build up your work experience to increase your chances of a higher salary. Find out more about construction industry jobs here.
---
Do I need a University Degree to be a business owner?
No, not at all. All you need is oodles of self-belief and determination – anyone can set up a business. You can start working for yourself at any age and offer a business solution that suits you.
For inspiration look at Lord Alan Sugar and Sir Richard Branson who infamously left school without any qualifications are now look at them. You'll need to research and plan ideas, and ask for help, but successful entrepreneurs can earn anything from the average salary of around £30,000 to well….the sky's the limit. Obviously, you will have to work long hours and may have to work a few years without seeing any money first.
---
IT Jobs where you don't need a degree
Computer Science
IT and Computer Science are huge industries that will only continue to grow and are certainly an area when you will find some high-paying jobs. Work experience and good project management skills will really open some doors for you. You will often require the need to speak to clients and develop creative ideas and solutions for their web-based business.
Freelance IT Contractor
Many IT job opportunities find their employees are self-taught and with much smaller self-starter IT businesses, finding a business to build your experience would be a serious advantage. Freelance, contractor and full-time jobs are available within IT, where you could be earning anything from £40-£80 per hour.
A University Degree is not always needed, but other skills are often looked at in addition to your IT skills. A computer science subject from school or college will be an advantage and help you pave the way to earning around £40,000 per year or more.
---
Digital Marketing
Learning digital marketing skills is worthwhile and these skills can often be transferred across different industries. But the job isn't just about running Twitter and Facebook campaigns, you'll need to be creative to develop ideas, be good with analysing data and be competent on various web platforms.
Entry-level jobs can be found to pay around £18,000 per annum. Freelance digital marketing jobs pay an average of £100-£120 per day depending on location and you can build up to earning around £25,000 – £30,000 per annum – with no University debt to pay off either.
---
Cyber Security
Cybersecurity is a relatively unknown area of IT, but absolutely critical to all IT businesses and one of the highest-paid job areas in the UK. This high paying job ensures that computer systems and data run safely and are not accessed by hackers. Data is highly valuable so the role of an IT security technician is vital to secure computer networks and applications.
You'll need a critical eye for detail, good computer programming skills and maths are all an advantage. But this is a great role which is set to increase. You don't need a University Degree to enter the role and you could start working within Cyber Security on a starting salary of around £18,000 – £21,000 per year. There are lots of courses available and some jobs offer training as part of the job. High-end jobs in Cyber Security have an annual salary of up to £80,000 per year.
---
Air Traffic Controller
Lastly, a role not often considered is that of the air traffic controller – this is a fairly high paid job in the UK that you don't need a University Degree for. However, it is a highly competitive job so any experience or qualifications in airspace, weather, analysing charts and data will all be considered.
In fact, the aviation industry recognises that three years of work experience within the aviation industry is equivalent to a Degree. Ideal candidates will need to qualify for a licence from the National Air Traffic Services (NATS). To begin your training, you will need to have at least 5 GCSEs at grade A*-C (9-4) however other qualifications such as computer science or maths will be a huge advantage.
You will be responsible for the safe manoeuvring of aircraft both in the air and on land. You could earn between £40,000 and £50,000 per annum after a few years of experience. Find out more about flying-related jobs here.
---
For more information visit:
For courses in most industries visit udemy.com.