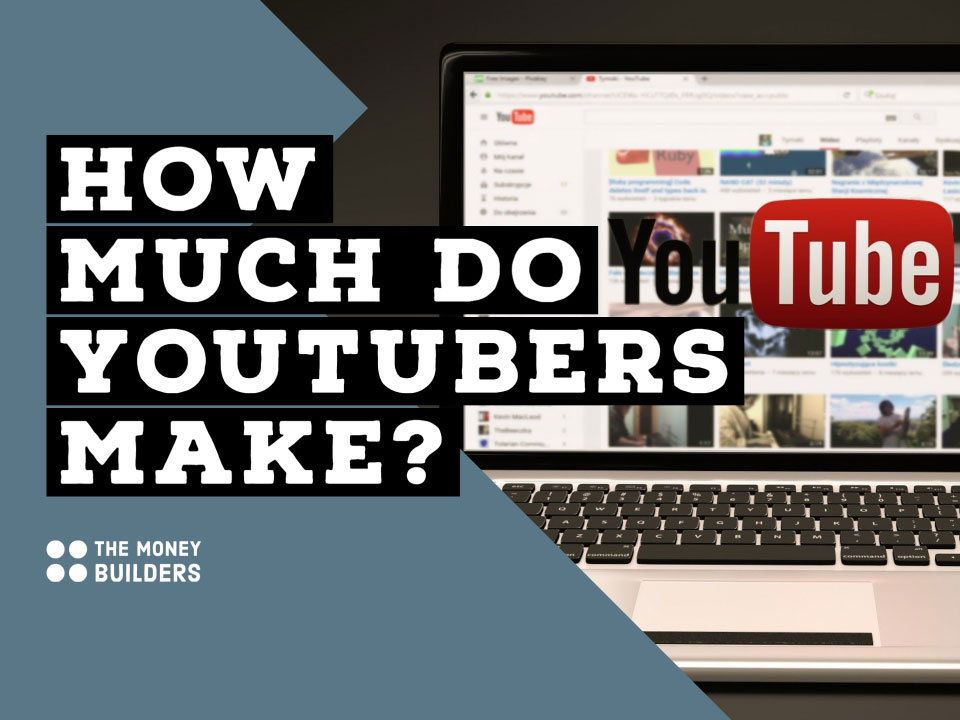 How Much Do YouTubers Make?
YouTubers are making a serious amount of money. In fact, the highest-paid YouTuber Jeffree Star has a net worth of $200 million. 
His net worth is 5x larger than the second richest YouTuber, PewDiePie, who has a net worth of just $40 million. 
Over 500 hours of video content is uploaded every minute to YouTube, so competition is fierce, but everyday people, of all ages, are fast making a passive income from the powers of YouTube.
Here we will look at
How much money you can make as a YouTuber.
How to become a YouTuber.
What you need to become a YouTuber.
What is a YouTuber?
A YouTuber is an individual who shares videos to entertain or inform on YouTube and who makes money from doing so.  
How do YouTubers make money?
YouTube influencers make money from their channels through a mix of adverts, subscriptions and merchandise.  
You can earn money through adverts on your channels, subscriptions, and channel memberships.  
To start earning money directly from YouTube your channel will need at least 1,000 subscribers and 4,000 watch hours in the past year. 
Once you reach that threshold, they can apply for YouTube's Partner Program.  You can then branch out and take sponsored posts from brands.
The rate of money made as a YouTuber is calculated on the per 1,000 views your videos have, and the type of engagement you have with your subscribers.
Additional income can be made through selling merchandise and affiliate marketing.
The actual amount of money YouTubers make varies but is calculated on the number of factors such as subscribers, content and engagement to your channel.
There are a number of routes into becoming a YouTuber, which we will touch on more later.
How Much do YouTubers Make Per 1000 Views? 
The exact amount of money YouTubers can make per 1,000 views varies based on factors like engagement and type of content. To give you an idea, average YouTubers make about $18 per 1,000 ad views. A YouTuber with 1 million subscribers typically makes around $60,000 a year.
Once approved, you can start making money through a number of routes, which we will look at shortly, so keep reading.
Can I predict my earnings?
Not really, but a really useful tool is a money calculator which will estimate your earnings.   This tool uses information such as your viewings, subscribers and engagement. 
https://influencermarketinghub.com/youtube-money-calculator/
How do I become a YouTuber?
It's free and relatively simple to set up a YouTube Account.   You can choose your own YouTube Channel name and follow the instructions on YouTube. There  are tons of How-To tutorials online too.
You may decide to invest in video recording equipment, video editing  or lighting which can cost from £1,000 upwards but there are lots of tools available including:
iMovie comes free with all Apple devices and is still a popular choice for many You Tubers.
Adobe Premiere Pro CC – can be paid monthly.
Adobe is currently offering a 7-day free trial and then you can choose to pay a monthly fee for using the programme at around £14 per month. Click here for more details.
There is plenty of software learning available online, so it's worth checking out some courses here.
Choosing a Niche for your YouTube channel
If you are looking to make money, consider focusing on a niche that you have a natural passion for.  This could be:
Gaming 
Music
Fashion
Frugal Fashion
How-to Guides
Gardening
Cooking
Cleaning.
Take some inspiration from Dude Perfect – a group of college friends who rose to success with their YouTube Channel.  They now have more than 15 million subscribers and their content includes friendly competitive battles, athletics, trick shots, battles and celeb content. Dude Perfect has a combined estimated value of around $50 million.
I'm camera shy  – can I make a YouTube Channel without showing my face?
There are several types of videos where you don't need to show your face – such as tutorials, animation, or relaxing music videos. You don't even need to know how to use video recording and editing programs to start a brand new channel.
How to promote your YouTube Channel.
You will need to use a mix of strong marketing across other social media channels.  Use Pinterest, Instagram, Facebook and Twitter to help promote and cross-reference your channel.
It's also worth learning a little about SEO so you can optimise your channel with keywords, metadata, good descriptions and creative thumbnails.  If you are stuck for skills, you may want to find a freelancer on Fiverr.com where you can find someone to create a thumbnail for you, for just a few pounds.  
Routes into monetizing your YouTube Channel
There are a few main routes to making money from YouTube.  They are:
YouTube Partner Program
As you begin making money, you create an account through AdSense so the advertisers can pay you as views or clicks come in.  There are two types: CPM (cost per thousand views) and CPC (cost per click).
If the advertisement is CPM, that means the viewer of your YouTube video must watch the ad for more than 30 seconds (or if it's a short video, for at least half the advertisement). Think about your YouTube watching habits and you'll know this is more unlikely than it sounds.
If it's a CPC advertisement, then you get paid based on how many viewers click on the ads surrounding your video.
YouTube affiliate marketing
Affiliate marketing is a marketing arrangement in which an online retailer pays commission to YouTubers for traffic or sales generated from the YouTubers' referrals.  This can be through recommending and demonstrating products.
YouTube sponsorships
Sponsorships from brands are for the YouTuber who has proven themselves as successful, reliable with a consistent following.  A brand won't want to invest in a channel unless you have already proven yourself.
Need to Know
As of 2020, there are more than 37 million YouTube channels out there.
You don't necessarily need a domain name for your YouTube Channel, but if you want your brand to grow and keep consistent, this may be something to consider.
Officially, you have to be over 13 to create an account – but there are plenty of very successful young YouTubers out there making money.  As long as their parents approve and are aware of the account, this is OK.