Looking to get into trading from your mobile phone but unsure how to get started? In this article, we're going to look at two of the most popular trading apps, eToro vs Trading 212.
This article contains affiliate links which means that if you click through and make a purchase, I may get a referral fee. You will not pay any more for using an affiliate link.
Never has it been easier for the man (or woman) in the street to invest some of their own money in global stock markets.
Either way, the rise of mobile internet and the popularity of apps means that investing in the stock market is no longer the preserve of the wealthy and well-advised.
Today anyone with a smartphone and a few pounds to their name can start investing with a trading platform from as little as £1.
The risk aspect of investments may scare some off, and while it's by no means plain sailing, some of the ultra-low interest rates on savings accounts these days are even scarier.
To get started you're going to have to pick a trading app. And whilst they all essentially do the same thing, they are all different in their own ways.
In this guide, I will be looking closely at two of the most popular apps, namely eToro and Trading 212. Both platforms covered in this review are regulated by the Financial Conduct Authority.
eToro is a multi-asset platform that also includes investing in stocks and cryptoassets, as well as trading CFDs.
Please note that CFDs are related instruments and that leverage them involve the risk of losing quick money. 67% of retail investor accounts lose money when trading CFDs on these offers. You have to weigh up whether you understand how CFDs work and whether you want to run the high risk of losing money.
Cryptoassets are highly volatile unregulated investment products. No EU investor protection. Your capital is at risk.
Past performance is not an indication of your results.
Promo codes
When you're starting out, it can be great to get a free share to kick things off.
Trading 212 offer a free share 'Up to the value of £100'. I've had a few of these, and to be honest they've never been higher than £10. If you want to try it out for yourself, click through here using my link and we'll both get a free share. All you have to do to claim your share is deposit £1 and you will get your share.
My free shares have been with EasyJet, General Electric, Smile 123 and have all been in the range of £8-£9.
Etoro is currently not offering a free share promotion.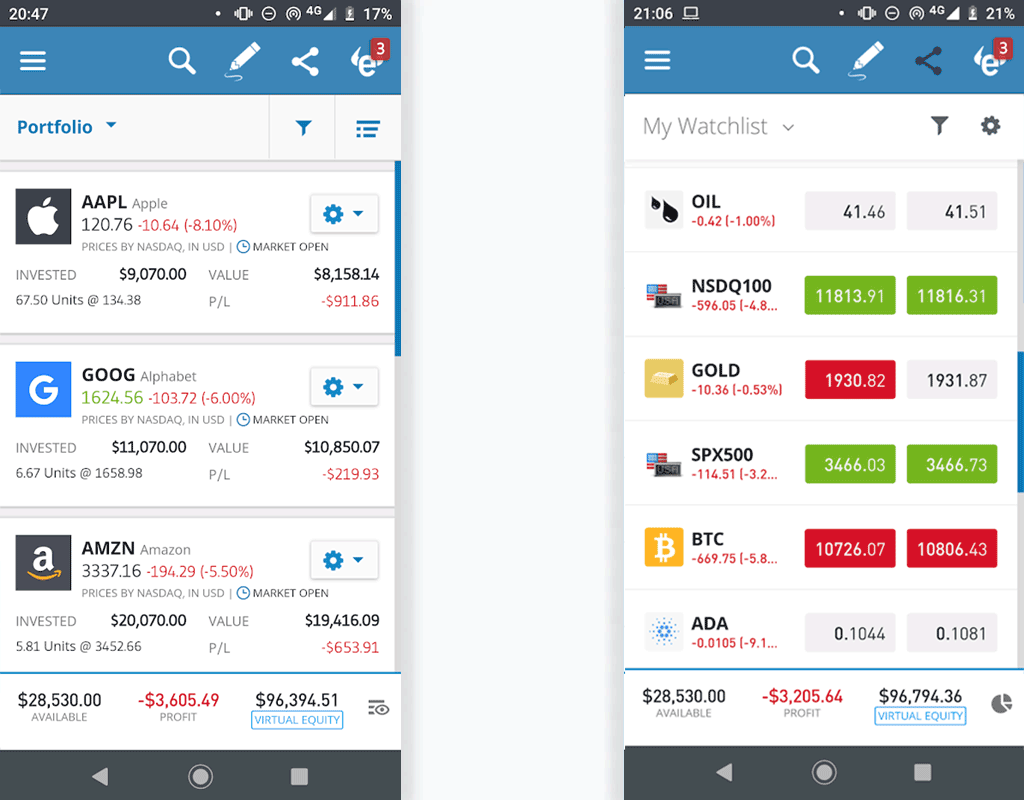 Minimum starting costs
Trading 212 have one of the lowest starting prices of only £1. Of course, this isn't going to go very far, but even if you want to get started and pick up that free share, you can get things moving with only £1 and have a really good look around the app and see how it all works.
The minimum deposit for eToro is one of the highest at $200 (currently around £147). After your initial deposit, subsequent deposits can be no lower than $50.
So if you're a beginner, trading 212 is obviously quite appealing as it will only cost you only a quid to kick off your investment journey.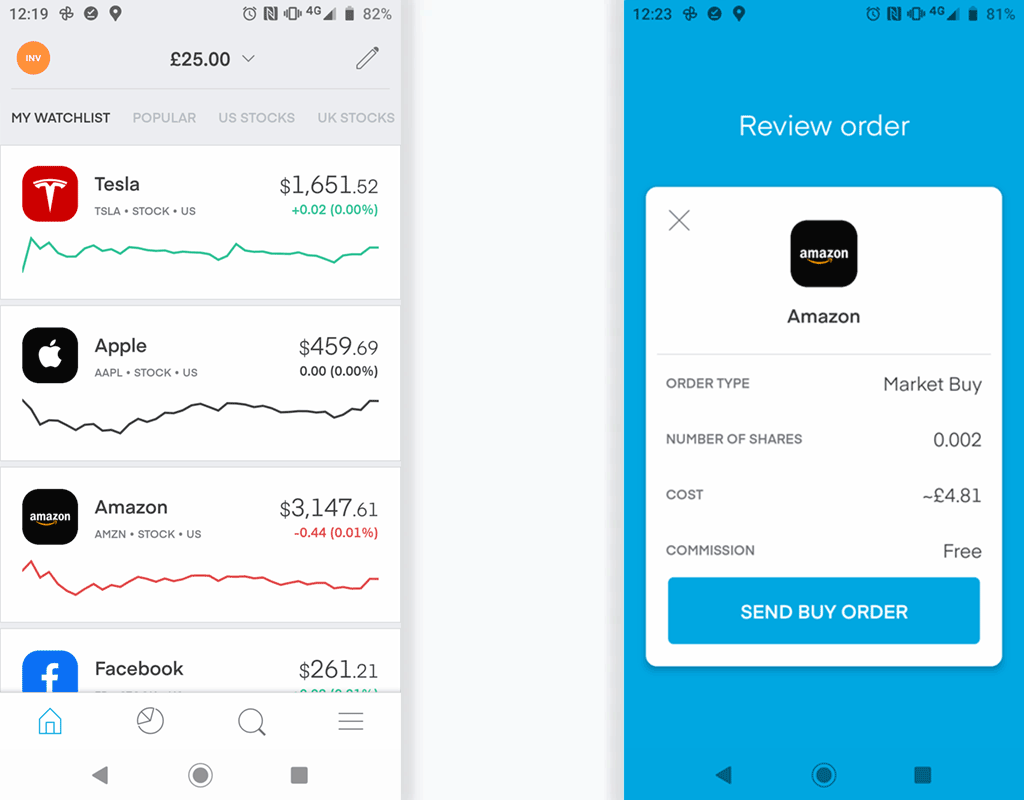 Withdrawal Fees
Investing is, more often than not, a very long term game. So with that in mind, I'll certainly be aiming to keep my investments locked away for a good while.
However, that's not to say I would totally disregard withdrawal fees. So what do T212 and eToro charge for withdrawals?
Trading 212 is free to withdraw funds. I've tried it myself when I accidentally loaded too much. It was quick and easy to do.
eToro charge $5 per withdrawal. And if you're from the UK, a conversion charge may be applicable in some cases too.
Layout and usability
Although Trading 212 and eToro bit have desktop versions, I only use my trading apps on mobile.
As far as layout goes, one of the main reasons that drew me towards trading 212 in the first place was the simple and user-friendly layout.
As you can see from the screenshots, T212 has a very clean interface.
The main buttons at the foot of the screen allow you to switch between the home screen, portfolio, instrument search and the group icon is 'Pie Library'. No, it's not a food delivery option, it's where you can view other traders pies.
A pie is trading 212's name for a portfolio of investments.
Users can share their pies and other traders can pass comment on anything relating to their performance.
It's an interesting and relatively new feature which we'll cover further down the page.
From each of the main buttons, it's easy to deep dive into any section you need to get in to.
CFD Trading
Both eToro and Trading 212 offer CFD Trading, but again they approach it both differently.
The Trading 212 app has three very distinctive sections to the app; Invest, CFD and ISA.
And it's always very clear which section you are in.
In fact, before you can deposit money and start trading in CFD s, you have to take a questionnaire. And warnings are clearly displayed stating the risks involved.
eToro works differently in that CFDs are included with other stocks in the same interface.
When you first start using the eToro app you will also be presented with a questionnaire on CFD s and the risks involved, however, I haven't attempted to buy any CFDs since opening my account so can't comment if there are more warnings.
It's clearly stated on both that many traders CFD accounts lose money. In fact, it is clearly stated that trading CFDs results in losses for 75% of retail investors.
Conclusion
In conclusion there are a number of key differences which differentiate these apps. As someone who started out my investment app journey last year, I found Trading 212 to be very suitable. The user experience and low starting premiums meant that I could get started without committing too much.
eToro also has its place but the information and interface will be more suited to more experienced investors.
| Features | eToro | Trading 212 |
| --- | --- | --- |
| Minimum Starting Premium | $200 initial deposit, $50 thereafter | £1 |
| Withdrawal Fees | $5 | £0 |
| Practice Account? | Yes | Yes |
| Free Promo Starting Share? | No | Yes – usually around £8 – £10 equivalent |
| Layout | Good for experienced traders | Good for beginner traders |