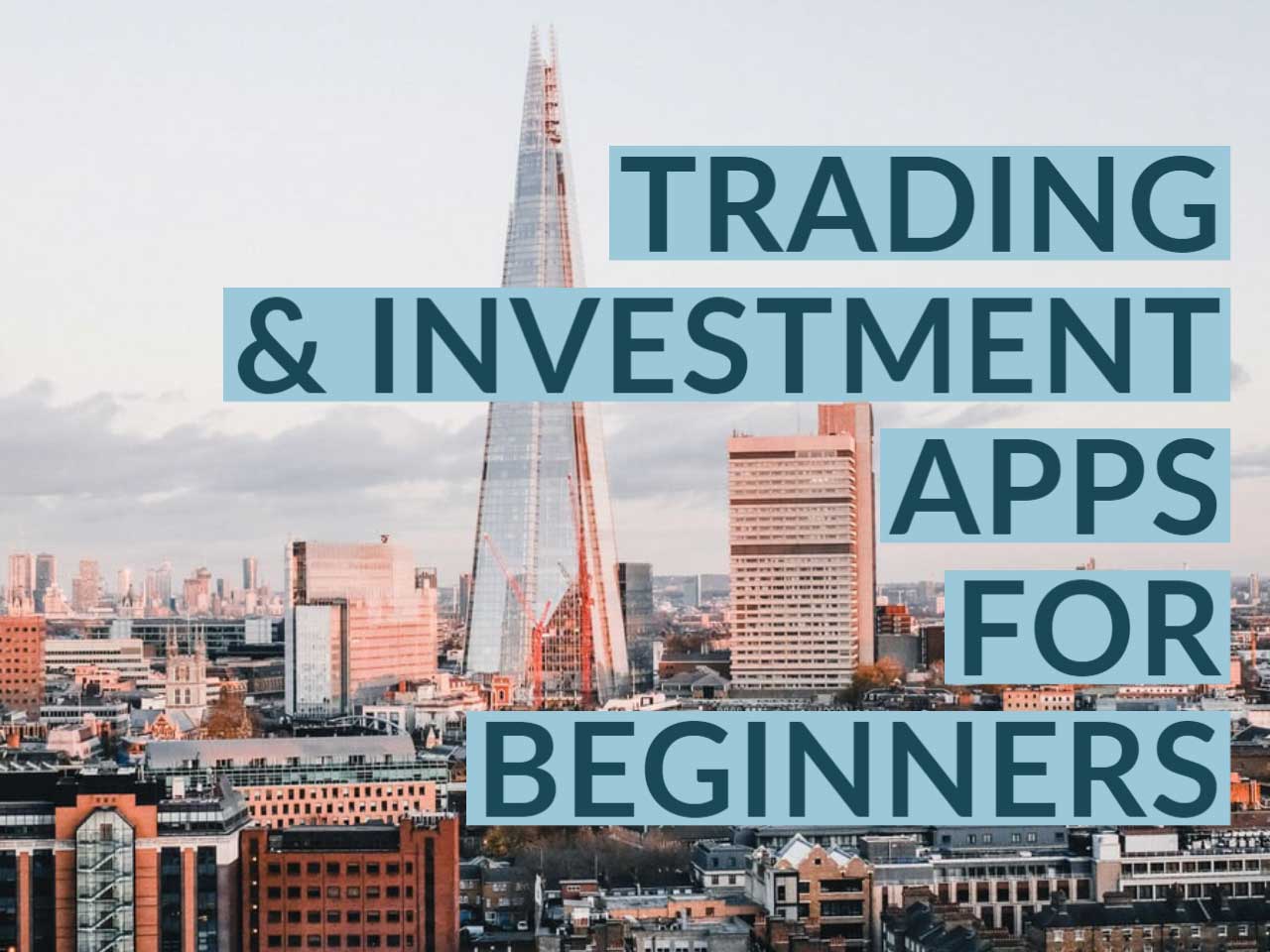 Best Investment Apps UK [for 2021]
This article contains affiliate links.
The guide below is not an endorsement or recommendation for any particular app or any particular stock. It is for your information and specifically based on what the best app might be if you are a beginner and want to try out an investment app.
best stock trading app uK
What is the best stock trading app in the UK? It's impossible to say exactly which is best. There are so many variables at play. However, this guide looks at how the apps work and how they differ and this could be a good starting point.
In what can be an extremely complex world, an easy to use investment app could be the difference between a beginner investor sticking with an investment strategy or giving up at the first hurdle.
The investment apps covered in this guide are:
---
eToro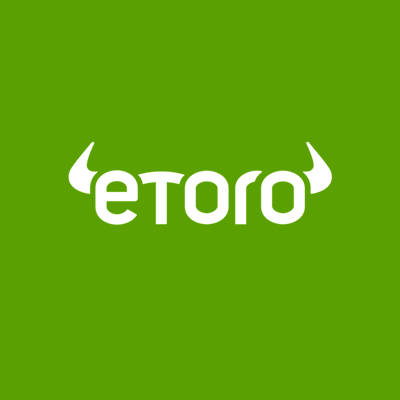 eToro is another brand who have been advertising a lot on social media. Their ads have really trumpeted their free trading (which is also offered by the other apps mentioned here).
eToro falls somewhere between Plus 500 and Trading 212 in that the interface is less jargon based, and easier to understand at first glance.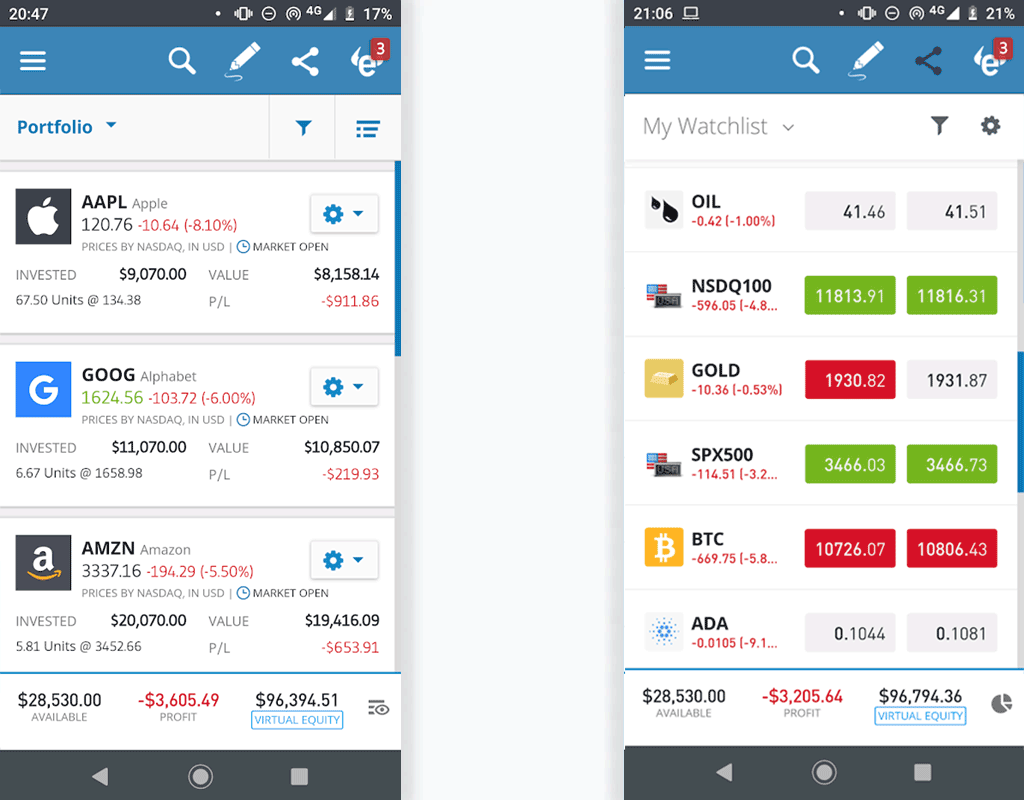 Similar to Plus 500, it's possible to use your Google or Facebook account to sign up.
Again the minimum deposit is higher for eToro at $200 (£153 at the time of writing). 
There's an even more extensive questionnaire at the start of the sign-up process to check your suitability for trading CFDs. Again I failed it and opted for the standard investment option.
Copy Portfolios & News Feeds
A key feature of eToro is when you are viewing a stocks information page, there is a tab to view a feed of fellow investors chatter on the stock.
Would I take their advice? Some seem sensible but I might just stick to Warren Buffets advice and invest in what I know.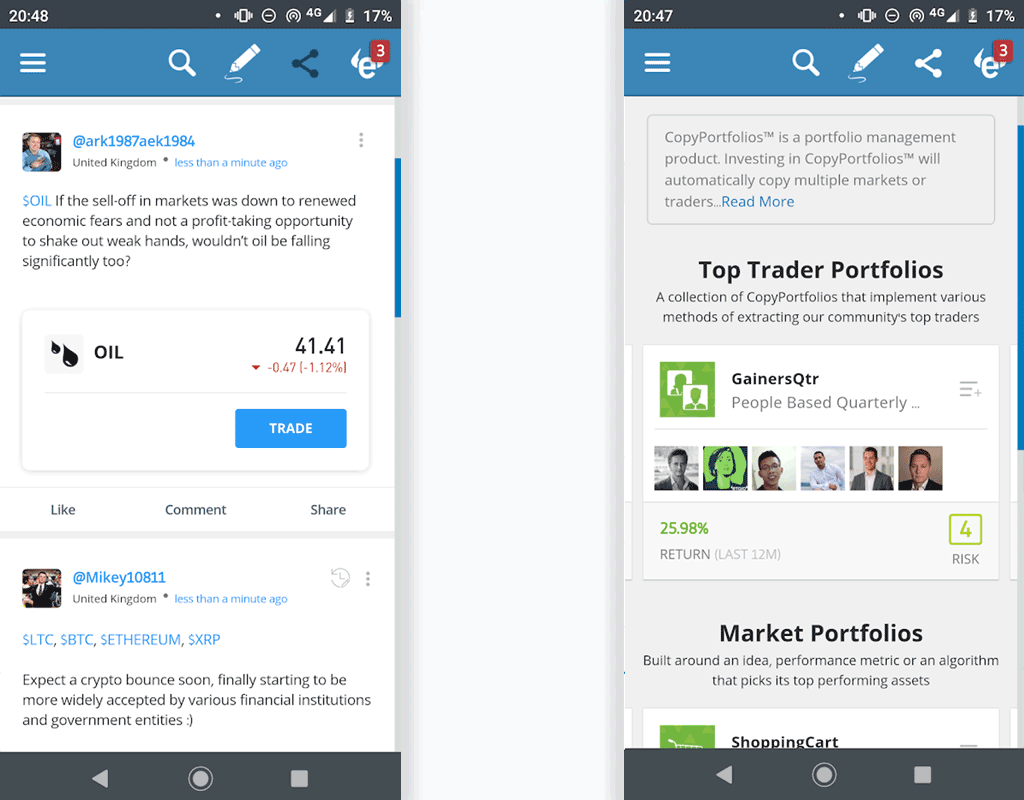 There's also an option to copy portfolios of other leading traders or investment strategies.
Cloud Computing strategy, for example, had made a loss since inception, but there's an option to stop investing if the value of the portfolio drops below a certain level.
For most of these apps, you can try out their practice mode, investing with virtual funds before you dip your toe into the high octane world of actual investing real money.
eToro is a multi-asset platform that also includes investing in stocks and cryptoassets, as well as trading CFDs.
Please note that CFDs are related instruments and that leverage them involve the risk of losing quick money. 67% of retail investor accounts lose money when trading CFDs on these offers. You have to weigh up whether you understand how CFDs work and whether you want to run the high risk of losing money.
Cryptoassets are highly volatile unregulated investment products. No EU investor protection. Your capital is at risk.
Past performance is not an indication of your results.
---
Trading 212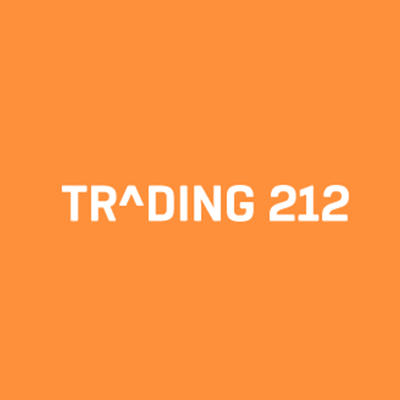 Trading 212 does a lot of advertising and while searching for an investment app on Google Play, I decided to take the plunge with them. You can read my Trading 212 review here where I take an i-depth look at the funds I selected and discuss their performance.
Registration
The app is reassuringly slick and the registration was quick and simple. It involves scanning your ID (you can use passport or driving licence), and taking a photograph of yourself. Both using the app.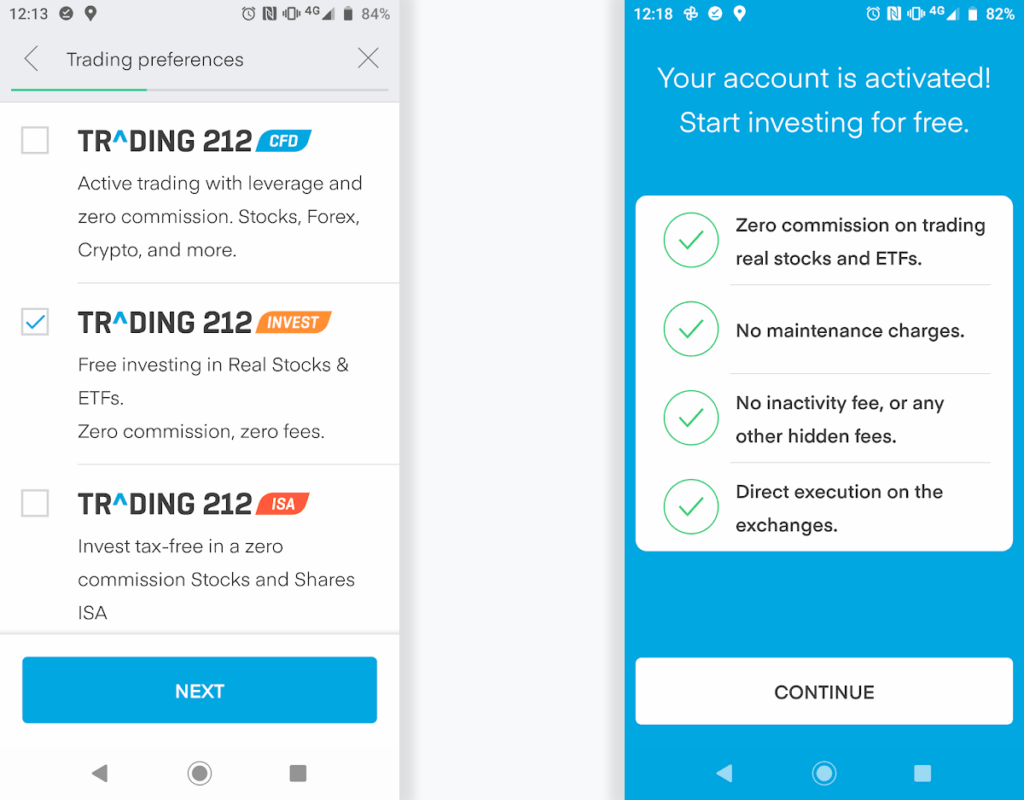 Buying stocks
First off the bat, the CFD trading came with a warning about the losses that some traders make using this platform, so I gave that a wide berth. I already have a Stocks and Shares ISA, so wouldn't be able to open another this tax year, so I plumped for the Stocks Investing platform.
To get started, I loaded £25 and split it between 5 companies. 4 that I knew of and 1 wildcard.
The companies I chose were Tesla, Microsoft, Amazon, Alibaba and Beyond Meat (an American company specialising in vegan and vegetarian foods). Again the process was straightforward.
It's easy to click through to a profile page for any company and check their share price, past performance and more. There's also a potted history of the company. The whole experience is reassuringly slick and a lot of thoguht has gone into the app.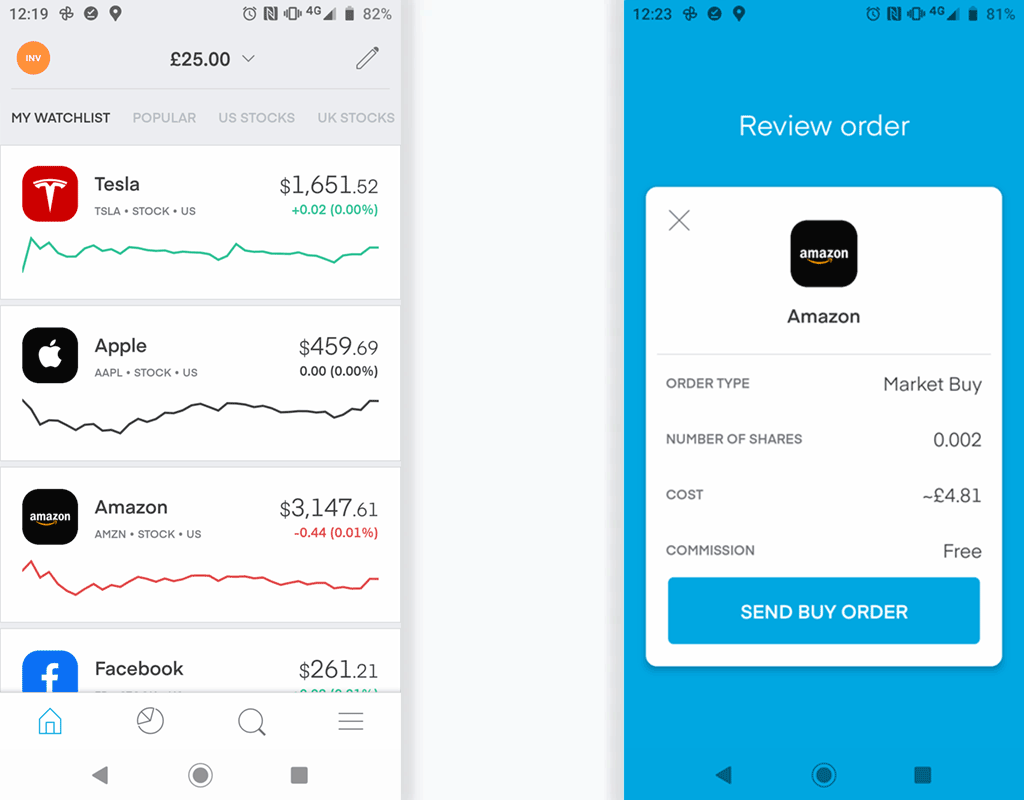 The general layout, graphics and diagrams are nicely laid out and pleasing to the eye. Most importantly, for the novice, they are all easy to understand and there's very little jargon or industry terms to put a beginner off.
As with other trading apps there is a practice area within the app where you are generously given a virtual £50,000. In this virtual arena, I split my funds between four stocks. Tesla, Zoom, Microsoft and NIO who are a Chinese electronic vehicle components manufacturer.
In summary, Trading 212 is:
Easy to get up and running with
Is clearly laid out
Feels secure with fingerprint sign-in enabled
Great for the novice as you can start investing from £1
Read a more in-depth review here – What is Trading 212.
---
Stake
Stake originated in Australia in 2016 with the aim of offering US stock trading to users of their app wherever they may be in the world.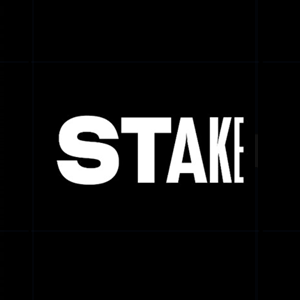 And while the concept of trading in US stocks using an app on the UK isn't actually new, Stake really specialises in it.
In fact, they claim to offer more US stocks than their free trading competitors in the UK. At 3,800+ stocks and EFTs and counting, it's currently way ahead of what Trading 212 or Freetrade can offer.
In fact, Stake only offers US stocks, such is their specialism. So if trading in a full range of US stocks is what you're after, then maybe Stake could be for you.
I should at this stage state that trading in stocks and shares carries a degree of risk and the value of your money can go down as well as up and you can get back less than you put in.
Loading funds
I managed to get hold of a promotion code which meant I could get a free share.
Stake do their free share promo a bit differently from other trading apps.
Get hold of a promo code and you have the chance to get a free share.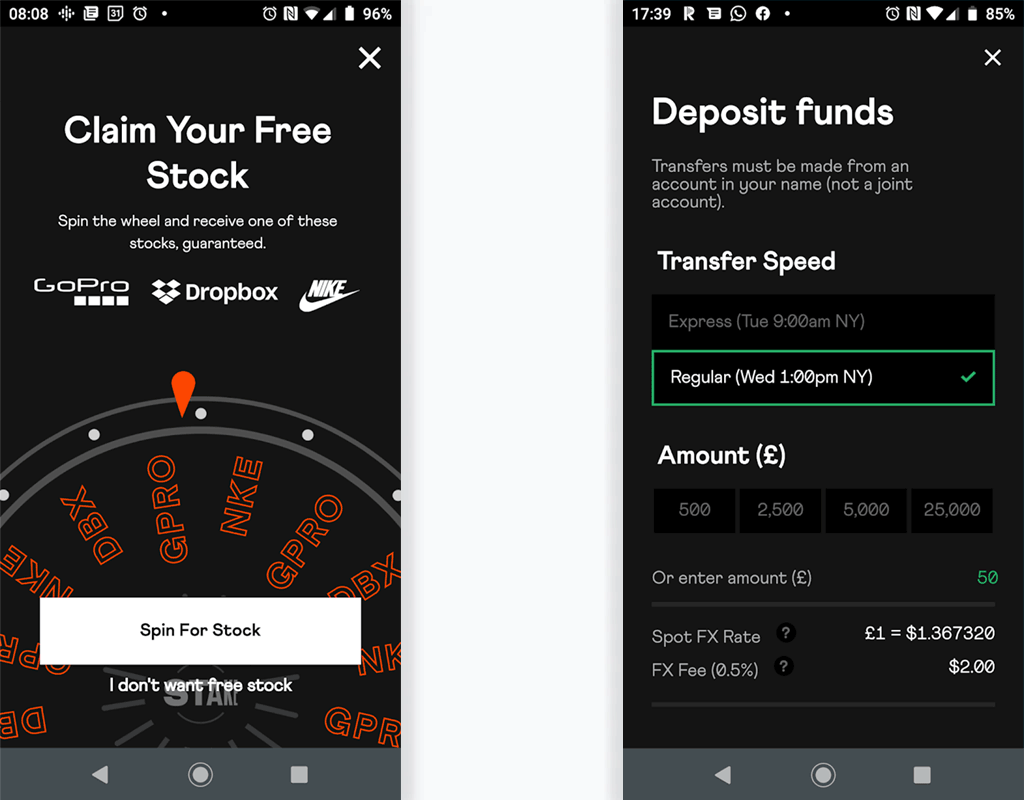 At the time of writing, the free share will be one of three options ranging in value from Nike (approx $120), Dropbox (Approx $20 reach per share) and GoPrp (Approx $10 per share).
You can claim your free share once you have deposited the minimum amount which is £50 Sterling.
When you're claiming your share, you must first spin for it. Unfortunately, I lucked out and for the list value share on offer for GoPro.
Charges
Although Stake is a commission fee trading platform, there is a fee each time you add funds. Also known as a loading fee or initial charge, the charge is 0.5% or a minimum of £2.
There's also an optional charge of 0.5% if you want your money transferred as quickly as possible in time for the next trading session.
In summary
If you're serious about investing in US stocks, then Stake is surely among the best options. It offers more US stocks than most and trading is all in US Dollars. Everything is geared up for Wall Street trading.
If you're only a beginner or just dropping some funds into an account on offer to get started investing, the fees for loading your funds every month may be a bit steep.
Loading £50 per month means your eating into 2% of your funds every month before they reach your account.
---
Plus500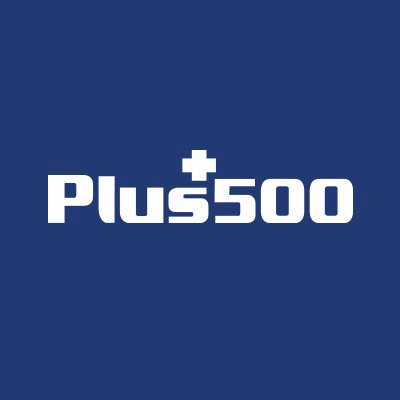 Plus500 is another prominent trading app. Similar to Trading 212, a warning message is displayed on the first startup of the app stating that 75% of people trading CFD accounts lose money. Again I gave it a wide berth.
At first glance, Plus500 isn't as user friendly for the novice like myself. It does seem more suited to those already familiar with trading stocks in terms of the display and terminology used.
Although as part of the signup process, you are taken through a quick questionnaire to assess whether you are suitable for trading CFDs (I wasn't).
Minimum Deposit
The minimum deposit amount is £100.
Unlike Trading 212, ISAs are not given as an option so I was stuck with ETFs.
Signing in is a bit more straightforward, and you can use your Google or Facebook account for a quick signup. You also don't have to supply a scan of your ID or take a selfie.
To be honest, I was a bit more comfortable with Trading 212's bank style log-in with my fingerprint.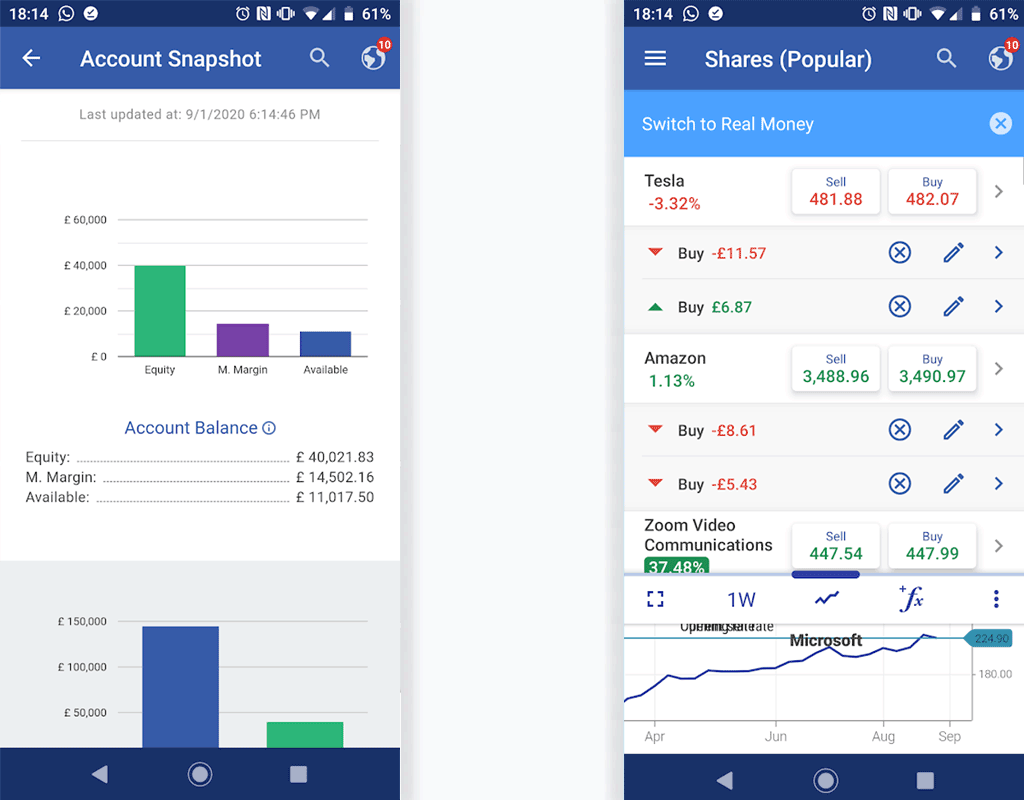 Above you can see screenshots from the Plus 500 app. To my eyes and with my limited trading experience, I found the terminology on display somewhat impenetrable.
There also seems to be a lot more going on on the screens. I dived in with my demo account, and bought some shares, again, Tesla were on the list.
500 Plus use lots of industry jargon such as Instrument Categories, Open Positions, Closed Positions and more. So this may be an option that more seasoned traders may feel comfortable with. The interface to my eyes really doesn't have the user-friendly approach of Trading 212.
---
In Summary
From a trading novice's point of view, I was very impressed with Trading 212. It felt intuitive and buying stocks was simple. The whole thing seems solid and I was very impressed with the bank-level security. I loaded funds and withdrew funds easily. If you are just starting out in trading and are looking for an investment app, then this could be a good shout.
It won't make you any more money, but speaking as a beginner in stock trading, it felt very comfortable to use. Plus you can start from only £1.
| Trading App | Minimum Deposit | Novice Rating |
| --- | --- | --- |
| Stake | £50 | High loading fee for small investors |
| Trading 212 | £1 | Great for beginners |
| Plus 500 | £100 | Tricky for beginners |
| E-Toro | £153 | Tricky for beginners |
For more trading app insights, read our Capital.com review here. we also have a great article on the best money saving apps UK savers have at their disposal.