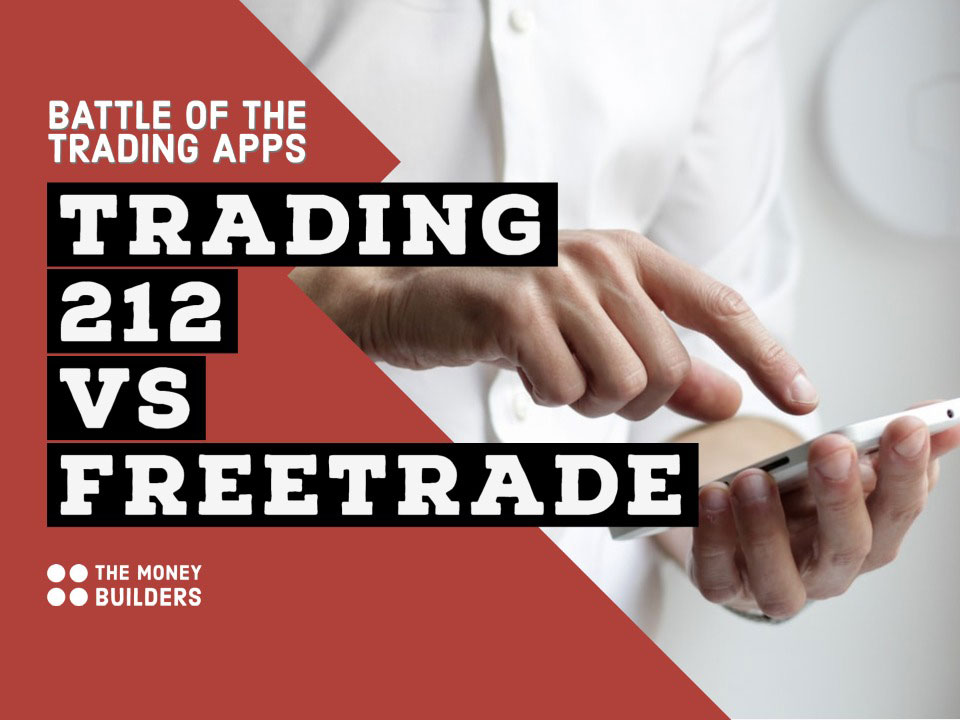 This article contains affiliate links.
Just in the past few years, huge advancements in mobile technologies have meant that mobile trading apps have become extremely popular in the UK. This guide compares Trading 212 vs Freetrade, two of the most popular apps.
In particular, zero fee investing apps with very low barriers to entry have seen a massive spike in uptake.
But with so many options on the market, how do you work out which one is best for you?
In this article, I'm going to take a look at two of the most popular apps with the lowest starting investment amounts of only £1.
These two apps are Trading 212 and Freetrade.
Referral Incentives
First things first, investment apps are obviously on a massive recruitment drive at the moment.
Both of these apps are offering incredibly generous referral incentives.
Just today, I have been offered a promo from Freetrade of a chance to win 10 bonus shares in Apple if I refer a friend before the end of the month,
Also currently, Trading 212 are offering a free share of up to £100 for both the referee and the referral customer. So if you want a free share with my referral code just click on through here.
Equally, once you are set up on Trading 212 you can introduce a friend and you can benefit again from this promotion. You can get up to a total of 20 shares using this promotion.
Foolishly I didn't seek out a promotion code when opening up my account so I missed out – but I would urge you to take advantage of this great offer if you're thinking of opening a trading app account.
Are the Apps Regulated By Financial Authorities?
They are both regulated by the Financial Conduct Authority in the UK. They are also both covered by the Financial Services Compensation Scheme which means that if either company was to go bust, your investments would be covered up to £85,000.
For more trading app comparisons, take a look at our article featuring eToro vs Trading 212.
CFD Trading
Of the two apps, only Trading 212 offers CFD (Contract for difference) trading, however, this guide will not cover CFDs.
Trading 212 vs Freetrade Stocks and Shares ISA
Both apps offer a stocks and shares ISA. Trading 212 charges no fees.
Freetrade charges £3 per month. £3 per month may sound expensive and it will be if you are starting from scratch.
However, if you consider if you were to have £10,000 in an ISA account, a £36 charge per year only works out at an annual management charge of 0.36%. Needless to say, if you have more in your ISA this percentage charge will be lower.
Compare this against the 1.5% that some providers charge for a stocks and shares ISA and it starts to look pretty cheap.
As I already hold a stocks and shares ISA with another provider, I can't invest this tax year. However, I fully intend to try out one of these platforms come 6th April 2021 when my allowance renews.
It may be an idea to utilise an ISA before you try anything else. The reason for this being ISAs are tax-free. Tax-free means you don't pay tax on capital gains on dividends.
You can invest up to a limit of £20,000 in an ISA in a tax year.
Practice accounts
A practice account is offered by many trading apps including Trading 212. However, Freetrade does not have this feature.
A practice account is a very useful feature which allows you to invest an imaginary sum of money (£50,000 in the case of Trading 212) in whichever stocks you want to.
I've found it to be a useful feature in that it demonstrates first hand the incredible peaks and troughs of the stock market.
I invested a large portion of my fake funds in Tesla which has subsequently tanked by over £16,000.
On the other hand, my Zoom investment has returned over 100% of my original investment to date.
So it's a thoroughly useful feature which may prove invaluable.
ETF Trading (Exchange Traded Fund)
Both platforms main feature is the ETF (Exchange Traded Fund) part of the app.
This is the buying and selling of stocks and shares. Unlike ISAs you will pay tax on your dividends or capital gains. This guide will focus on the ETF features on these apps.
Trading 212 features
When I started using Trading 212 I was immediately impressed by the great usability of the app. Read an in-depth Trading 212 review here.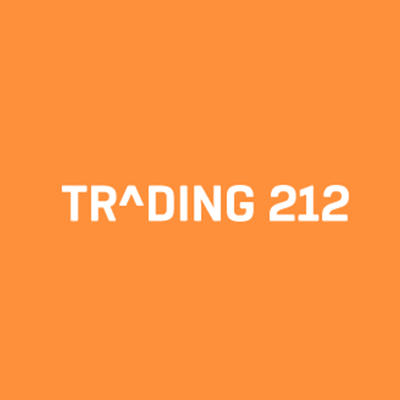 Everything is labelled very clearly and it's extremely easy to view the stocks that are on offer.
They are categorised into several segments including 'My Watchlist', 'Popular', US Stocks, UK Stocks, New on Trading 212 and more.
I found navigating between the categories very intuitive and having 'Popular' and 'New on Trading 212' sections are good ways to dip in and see what takes your fancy.
Click on to any stock and you get a very detailed screen outlining each companies price, their historical performance, in-depth company details and a financial summary including cash flow for the previous three financial years. And that's just on the first screen.
It's possible to deep dive even further into any company's financial details before you purchase a share.
Another impressive feature which Trading 212 have is the "Investment Pie".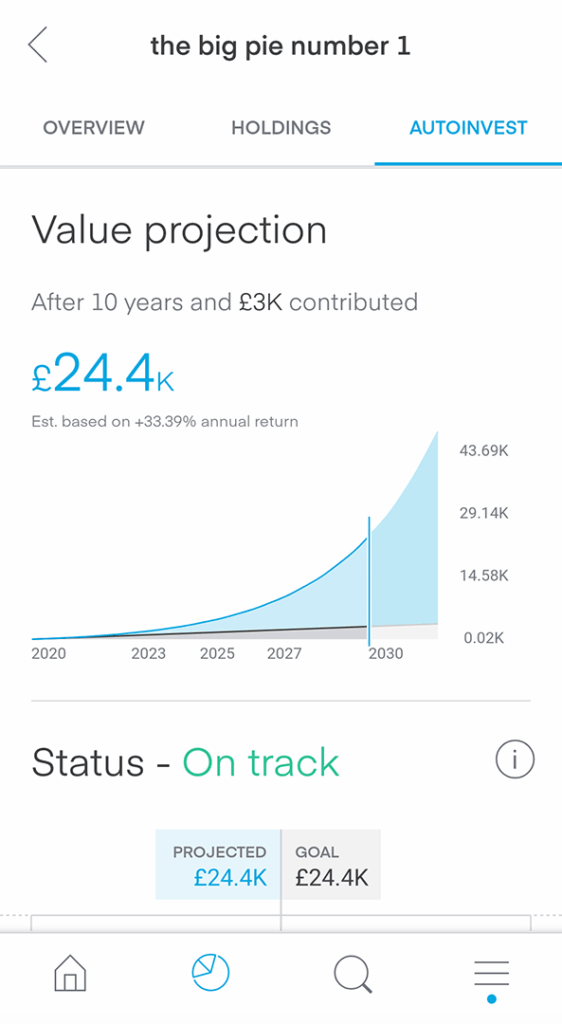 This allows you to create a mini portfolio of stocks you wish to invest in. You then allocate the percentage of your investment which you want to allocate to each stock.
When using this feature, you set up a regular payment which is then split between your stocks every month. This saves you having to pick new stocks every time you make a payment into your account.
With the pie feature, you also get an investment plan and a forecast based on the stocks you have picked, the length of your investment.
You can also choose whether to reinvest your dividends or not.
This feature is a very big plus for me when choosing a trading app.
You get the feeling that trading apps are in something of an arms race at the moment, constantly trying to outdo each other in terms of interesting features. Which can only be a good thing for investors.
Anyway, enough about Trading 212, let's look at Freetrade.
Freetrade Features
Similar to Trading 212, Freetrade also offers a free share as a referral fee. In fact Freetrade's is potentially more generous in that it can be between £5 and £200.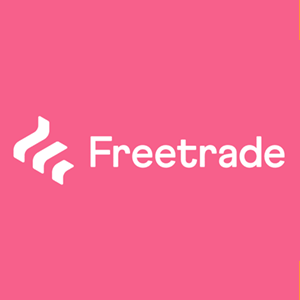 In terms of app usability, Freetrade isn't quite as user friendly.
I found it trickier to discover company stocks to invest in – and for some reason, Canadian companies have been listed prominenlty on my app's 'Discover' screen since I've had the app.
I'm not sure why exactly, as I'm mostly interested in UK & US stocks.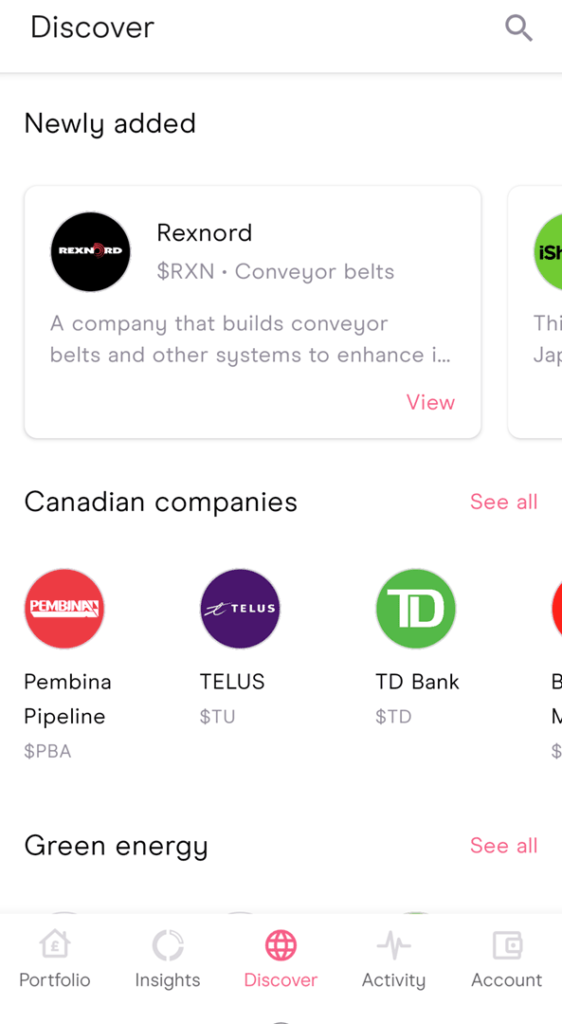 Green Energy, UK & US Stocks are represented further down the page.
With the usability being slightly different I must say I do prefer Trading 212's layout, but maybe that's because it was the first one I tried.
Freetrade's layout just seems a lot more sparse and it feels harder to dig in to the app to find what you're looking for.
In terms of charges, Similar to T212, basic Orders are free (basic orders are buy or sell orders placed outwith stock trading hours – they are executed next trading day at 3pm).
As are instant orders (instant orders are placed during trading hours and are executed instantly).
Withdrawals are free (if it is an outgoing bank transfer).
Funds on Offer
The range of funds is not as large on Freetrade as on T212. However there is a paid plan called Freetrade Plus (something of a misnomer?), where there are more stocks available.
Other features on Freetrade Plus include limit orders, stop losses, priority customer service, a stocks and shares ISA included, and curated stock collections.
In terms of costs, Freetrade and Trading 212 certainly stacks up very well against such competitors in the field as HL, AJ Bell and Interactive Investor. These three companies charge for each trade whereas T212 and FT do not.
However, Trading 212 has the edge in the battle of the low barrier to entry apps in terms of cost with its free ISA platform on offer versus the £3 per month for Freetrade.
Other apps such as eToro and Plus 500 require starting investments of upwards of £100 to kick things off.
In Summary
At the end of the day, the fact that both of these apps allow you to start from such a low entry point means you could fund both apps and use them for a month then switch to whichever one you prefer.
My own preference is Trading 212, I believe it has the edge in terms of usability, a free ISA account and the range of stocks on offer.
| App Features | Trading 212 | Freetrade |
| --- | --- | --- |
| Minimum Starting Amount | £1 | £1 |
| Practice Account | Yes | No |
| Good for beginners | Yes | Yes |
| ISA fee | Free | £3/m |
| Free trading | Yes | Yes |