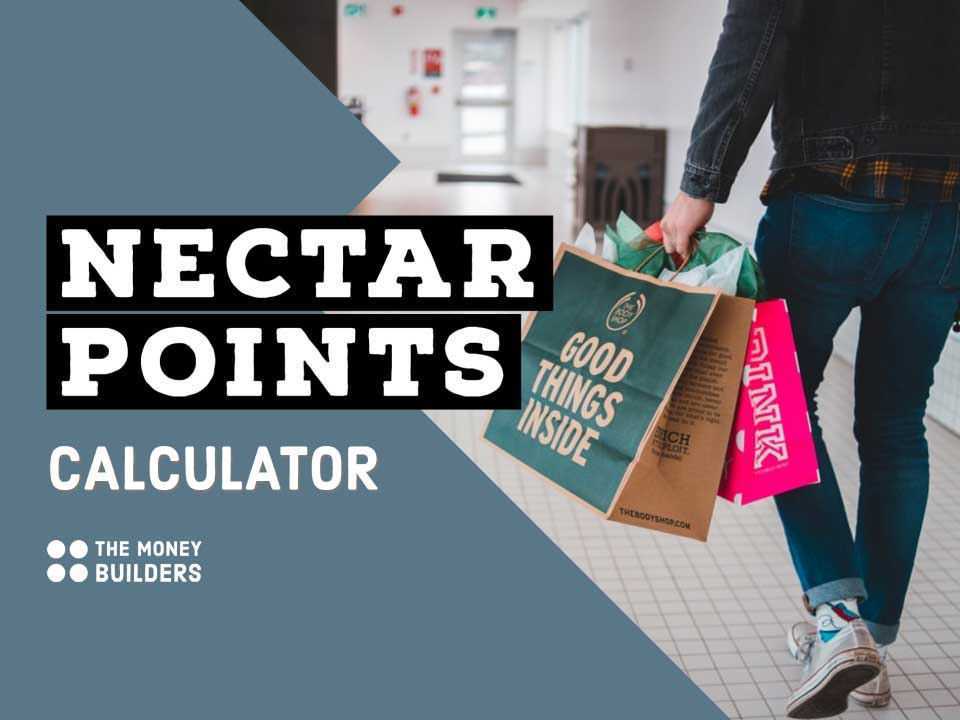 If you collect Nectar Points, this Nectar Points Calculator will quickly tell you how much your points are worth.
---
---
How does it work?
The Nectar Points loyalty scheme is run by some of the biggest retailers in the UK. Purchases can be exchanged into cash, vouchers, or even used for payment towards your purchases from everything from your food shopping to days out and holidays.
Nectar used to have a reputation for being one of the lowest-paid reward schemes. You would need to spend a whopping £400 to gain just £2 in Nectar Points. But points soon add up, from using Sainsbury's banking services, petrol or shopping in Argos and on eBay.
It's free to join and you either use a handy app on your phone or a fob to attach to your keyring to keep track of your account. You earn points by shopping in Nectar friendly retailers. Watch out for Double Up events where you can earn even more points with your purchases.
How Much Are Nectar Points worth?
Every 1 Nectar point is worth 0.5p, so you would need to have 200 Nectar points to earn £1 in value. You can use our handy Nectar Points Calculator (below) to work out your nectar points value. 100 Nectar points are worth 50p 500 Nectar points are worth £2.50 1000 Nectar points are worth £5
Places you spend your Nectar Points:
There are over 350 partners where you can spend your Nectar Points. You can save them up for money off at Christmas, or put them towards a holiday, days out or cinema trips (Covid and lockdown permitting of course). Or you could save some cash and treat yourself to a takeaway coffee using your points.
If you like to plan some trips you can redeem your points on Eurostar travel, or by taking out travel insurance. There's plenty of advice on the Nectar.com website. You can use a mixture of Nectar points and cash/card payment/Argos Gift Cards.
Things to be aware of:
There are conditions to the Nectar Account. There's a limit on the number of points you can spend in one go. You're able to spend a maximum of 40,000 Nectar points (same as £200) in one transaction. Your Nectar account could be closed if you don't use it for a continuous period. Be aware the whole point of loyalty schemes is so that retailers know about your purchases and entice you to spend more, by sending you marketing material.
FAQ
Where can I spend Nectar points?
There are over 350 partners who work with the Nectar Account, giving you a greater opportunity to stretch your savings further. From Eurostar, Cinema chains, travel chains, Argos and Sainsbury's to name a few. You can refer back to our handy calculator to check how much your points are worth.
How can I earn Nectar points?
Simply ensure you always have your Nectar Card with you, this can be on an App or key fob. You can link your online purchases to your account too. Every time you spend, you'll earn points. Keep going and the points soon add up. It seems most rewards are found with Sainsbury's financial products.
Tesco Clubcard vs Nectar
Both supermarkets offer a loyalty card scheme, Tesco's Clubcard and Sainsbury's Nectar Card. Unlike Tesco's Clubcard, the Nectar card has far more partners you can use/spend your points with but Tesco's has been perceived as more generous in terms of the points you earn. If you spend £200 a month with Tesco, you'd earn 2,400 points over the year, or £24. Unfortunately, the rate of return from Nectar is only half as good as Clubcard as each point is only worth 0.5p.
It seems the most points are rewarded through both retailers' financial products – their banking and credit cards, for example, the Nectar Credit Card from American Express will give you an amazing 20,000 points as a welcome bonus when you spend £2,000 on it in the first three months.
In other words, Nectar itself is not that generous a loyalty scheme, unless you make use of the right financial product or exchange vouchers for days out to boost your Nectar points.