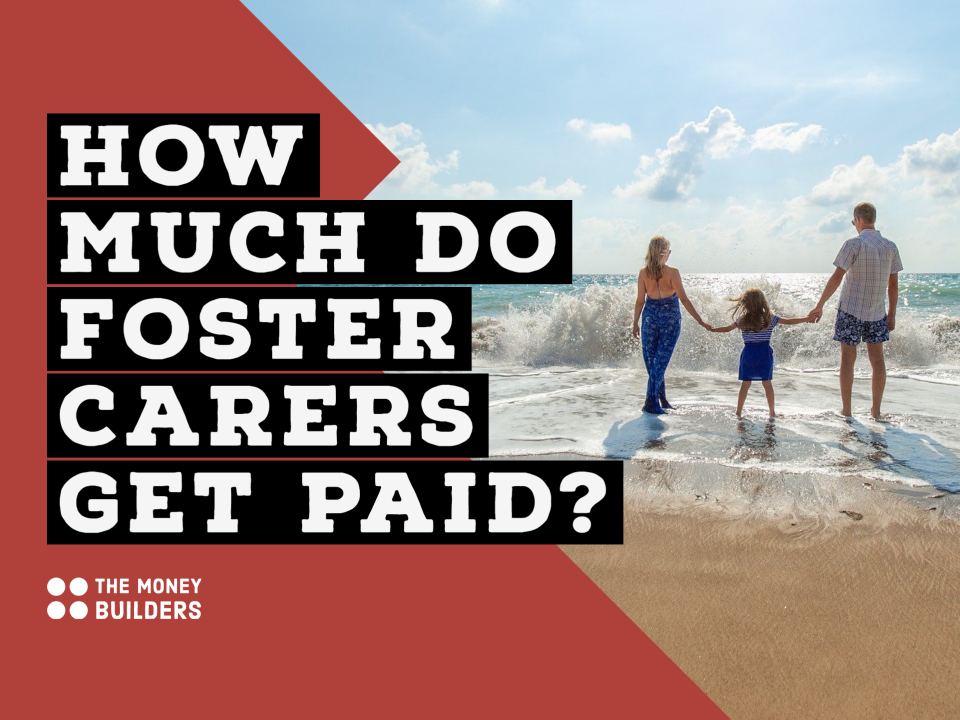 How Much do Foster Carers Get Paid in the UK? [2022]
Becoming a Foster Parent – What's Involved?
If you are considering fostering children in the UK but are not sure what it would involve – read on. We have scoured the internet and put together some Fostering FAQ's to help give you a starting point. We'll run through who can foster, how to start your application and details and how fostering care allowance works in the UK.
How Much Do Foster Carers Get Paid in the UK?
As a foster carer, you will be classed as self-employed.
You could earn a minimum of around £132 to £231 per week, depending on where you live, the experience and the dependency of the child. Some agencies with children with more complex needs offer fostering fees of around £600 per week.
An average fee, looking after a foster child earning around £450 per week, could see an annual income for a foster carer of around £29,400. Depending on the agency or local authority you use, you may also receive allowances towards the cost of looking after your foster child.
Every year The Fostering Network checks the allowances paid by all local authorities in England and Wales and health and social care trusts in Northern Ireland to ensure they meet national minimum levels, and campaigns for them to be brought up to these levels where they are falling short.
Do beware that receiving your fostering allowance may affect any benefits you are on. You may still be eligible for some benefits, such as Universal Credits, but it is best to speak to The Citizen Advice Bureau or check on Benefits Calculator on the Gov.uk website.
What is fostering?
There are over 73,000 carers in the UK offering a host of foster care. The application process is the same for all types.
As a foster carer you will look after children in care who cannot go back to their birth family for various reasons, but do not want to be adopted. Usually, you'll be their foster parent until they're an adult. But you could foster for short-term to long-term and everything in between.
If you don't have the space you could offer short breaks during the day for respite breaks. Fostering is very possible for many people.
Short term fostering is where you look after children in care, perhaps from local authorities, for a few weeks or months while plans are made for their future.
'Family and friends or 'kinship' fostering is where you look after a child who is part of your extended family, such as a grandchild or nephew. This could be if their birth parents are unwell for an extended time.
What is involved in fostering?
It's really important to research what is expected of you and the commitment you will be making through fostering. As a foster parent, you could be providing care for a baby, toddler, teenager or young adult. Not only will you be providing a loving, safe home for that child, there is also an element of paperwork involved and meetings to attend.
Of course, first and foremost you will be supporting the child placed into your home. It's expected that you'll do everything you possibly can to ensure the child is safe, well looked after and loved.
Your support is vital and can make a real difference to the child in your care. Part of this support includes dealing with potentially challenging behaviour, but your support groups will help you with this. You will need to have a lot of patience, time, care and utmost confidentiality. Your objective will be to help provide a caring and safe home for that foster child and help prepare them for their future.
How do I foster a child?
There are independent fostering agencies or your local authority who can both help with starting the fostering process. Both outlets have the same aim in mind, to provide care for their looked after children. Local authorities tend to work with children and families within a specific geographical area. Independent fostering agencies may be more specialised or have contacts further afield.
You can find reputable fostering agencies through the National Fostering Agency NFA.co.uk.
After you have sent in your application, a fostering panel will discuss your application and offer a series of checks and home visits. Once you get in touch, the process of applying to be a foster carer will take from four to six months (16 to 26 weeks), which includes your training required.
Agencies sometimes offer different benefits to their foster families on top of the fostering allowance (more on this in a minute). As well as a competitive fostering allowance, agencies may help with additional support and training, paid holiday respite care for you, social days out and gatherings to help you and your foster child
What support is there for foster families?
Lots! You certainly won't be left alone. You will become part of a fostering family with help and support from social workers, teachers, health care workers and counsellors. Depending on who you use, fostering agencies sometimes also offer their own support groups too.
Some agencies help out financially by giving a Bridging Retainer Payment, which is a payment for the gaps in between fostering children. Every agency is different so do check on this beforehand. It is also worth asking if any holiday breaks are given, allowing you and your own family to have some respite care.
Can I still work if I foster?
You may be surprised to hear this, but yes you can. Depending on the age and requirements of the child you foster, and the agencies terms, you may still be able to work. Some foster carers are able to work part-time and some even full-time, if your foster children and grown-up and independent.
What sort of home do I need to have to foster children?
It doesn't matter if you are single, married, own a home or rent, you can still be considered to offer fostering care. You will need to be over 21 and have a spare bedroom unless you want to look after a young baby or offer short-term respite care.
Pets are allowed, although they will be checked during a home visit. Pets can be regarded as a real asset to a family.
You will have a standard police check (DBS) and your home will be checked and references required.
For more in this series of articles, also check out how much do lorry drivers earn and how much do paramedics get paid.
—-
For more information: