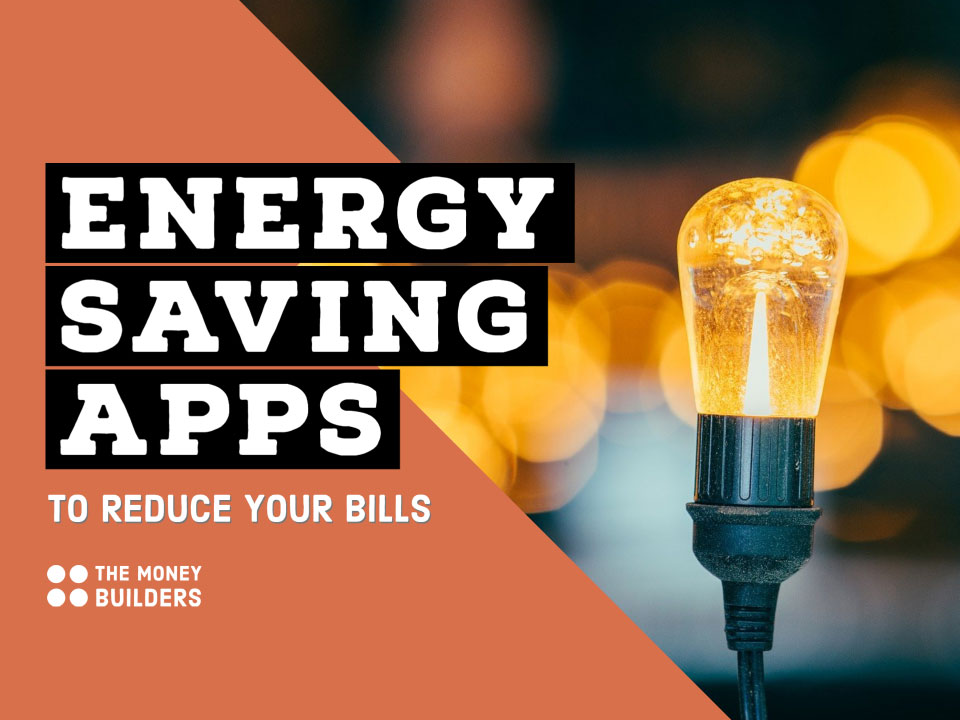 10 Energy Saving Mobile Apps to Reduce Your Bills (UK 2022)
Below is a guest post provided to us by Eve Crabtree at Love Energy Savings. Thanks for writing such a great article for The Money Builders Eve, I'm already looking at some of these apps in order to make savings on my energy bills.
---
During the winter months, our home energy bills can skyrocket. Colder days and dark nights make us much more reliant on our heating and lighting. 
This winter, saving energy is an even greater challenge with many of us set to continue working from home after Christmas.
However, this doesn't mean we should give up on reducing our carbon footprint and lowering our energy bills.
Over recent years, a huge range of energy saving mobile apps have been launched to help users save money on their bills. From smart thermostats to rideshare apps, the opportunity to save energy is right at your fingertips.
To help you make sense of the apps on offer, the energy experts at Love Energy Savings have put together a list of 10 mobile apps to help you save energy and money.
---
Smart Thermostats
The popularity of smart thermostats is growing rapidly. The ability to set programmes and control heating when away from the home are often some of the biggest selling points.
Smart thermostats aim to do more than simply make life easier, the goal is to help you save money on your energy bills.
Hive is one of the most well-known providers of smart thermostats. Hive claim customers can save up to £120 a year using their smart home system. 
Money-saving features include frost protection and holiday modes which will ensure you don't waste energy when you leave home. Hive have even teamed up with Amazon to allow you to control your home's heating using your Amazon Echo.
It's worth bearing in mind, however, that your Hive system will need to be installed by a British Gas engineer.
How much does Hive cost?
To install Hive, you will need to pay £179 for the hardware plus a £70 installation fee.
The Google Nest is a result of a partnership between Nest Labs and Google. Alongside Hive, the Google Nest has become one of the most recognisable smart thermostats on the market.
The Google Nest offers many impressive features including detecting light, humidity and motion. Using these sensors, Google Nest can learn your schedule, allowing it to instinctively adapt to your habits. It can then automatically set schedules meaning there is no need to programme the device every day.
However, to heat your whole home remotely, you will need to purchase multiple temperature sensors.
How much does Google Nest cost?
The hardware for Google Nest comes in at a cost of £199.
Tado may not be as well-known as the other smart thermostats on our list. However, they have made bold claims about the impact of their app on your energy bills. This smart thermostat claims it can cut your energy bills by 31%. At this rate of saving, it could pay for itself in just 12 months.
You can fit a thermostat to each radiator in your property, allowing you to accurately control the temperature of each room from Tado app.
Unlike Google Nest, Tado cannot learn your preferences. This means you will be required to input your preferences manually for each room in your home.
Tado does offer a geolocation feature which uses your smartphone location data to sense when you are leaving or arriving home. It will then automatically turn your heating on or off, so you can always arrive at a toasty warm home!
How much does Tado cost?
Tado hardware will set you back around £129. However, as the only smart thermostat on our list offering self-setup, you can save money on installation costs. 
---
Energy Monitors
Keeping track of how much energy we use in the home can seem like an impossible task. However, a number of apps are aiming to change the way we track our energy usage.
By understanding how we use energy, reducing our consumption and lowering bills becomes much more achievable.
With the Energy Consumption Analyzer app, you can view accurate readings on how much energy you consume daily.
You will be asked to input data from your meters into the app. From these readings, the Energy Consumption Analyzer will provide data on your gas, electricity, and water usage. You can then colour code data and add comments to help you process the information provided.
The app does require quite a lot of information to be inputted manually and you will need to remember to update the app regularly to receive your average energy consumption.
How much does the Energy Consumption Analyzer cost?
The app is free, but it is only available Android users on the Google Play Store.
The Energy Cost Calculator app helps you find out which appliances in your home are using the most energy. You can discover how much an appliance costs to run by entering the wattage of the appliance and how often you use it.
Once again, this app requires you to manually input information and give accurate information on how often you use an appliance. So, it's worth bearing in mind that costs are unlikely to be 100% accurate. 
However, you may find that certain appliances are costing you more than you think.
How much does the Energy Cost Calculator cost?
The Energy Cost Calculator app is completely free to use.
The JouleBug app offers simple tips to make your everyday habits more sustainable. The app aims to bring a fun approach to changing energy behaviour. 
JouleBug contains features similar to a game and you are rewarded with trophies for your achievements. You can even share your accomplishments with friends and compete against each other through a series of challenges.
It's a fun, innovative approach to improving your energy efficiency.
How much does JouleBug cost?
The JouleBug app is free and available to both iOS and Android users.
---
Smart Home Apps
Controlling your appliances and lighting from your phone is no longer consigned to sci-fi films. Smart homes are becoming increasingly common and there is a number of apps aiming to meet our needs.
MiHome allows you to control lights, appliances, and heating from the app. You can build your smart home room by room. So, you can test the MiHome system in your living room before installing it throughout your home. 
MiHome offers geolocation services, which means that anything you've forgotten to turn off will do so as soon as your phone goes outside a certain range.
You can install MiHome smart devices yourself or arrange for a professional to install them. You can choose from installing products including heating, lighting, sockets and plugs, and security devices.
How much does MiHome cost?
The MiHome app is free to install. However, the cost of building your smart home will depend on the size of your home and how much you want to control. A MiHome starter kit will cost around £200.
Leaving lights on around the home can be one of the largest drains on our energy usage. Lights left on in a room we aren't using is wasted energy and therefore, wasted money.
With the Philips Hue smart lighting system, you can control the lights around your entire home. You can even change the colour and brightness of lights in a certain room. 
The app allows you to set up lighting schedules around the clock and location awareness can automatically turn lights on or off as you leave or arrive home. 
How much does Philips Hue cost?
The app is free, but you will be required to buy Philips Hue lightbulbs. You can purchase a starter pack containing 2 lightbulbs for around £40. Individual colour ambience LED bulbs can cost £49.99 each. 
---
Travel Apps
Saving energy at home is a great step to reducing your carbon footprint. However, it's important to consider how we can save energy and money when out on the road.
Fortunately, a number of apps are available to help us reduce the costs of travel.
The WhatGas app allows you to find the cost of petrol and diesel per litre for each petrol station. This allows you to plan your journey in advance to ensure you're getting the best prices when fuelling your vehicle.
If you're in an unfamiliar area, the app will also help you avoid driving around searching for the nearest petrol station.
How much does WhatGas cost?
The WhatGas app is free on both iOS and Android devices.
Most of us will be well aware of Uber by now. They have changed the taxi industry allowing you to book your ride from the app, track your taxi, and review your driver.
Now, Uber have introduced UberPool. As the name suggests, UberPool assigns one driver to customers who are travelling in the same direction. This allows commuters to pay a lower fare and reduce their impact on the environment.
How much does UberPool cost?
The app is free, and your fares will be cheaper than a standard UberX taxi.
Keep a close eye on your energy usage
"Finding new innovations to save our customers money on their energy bills is something we're always looking out for," says Phil Foster from Love Energy Savings. "When it comes to utility bills, more often than not, it's small actions that snowball to create large bills. 
"With the help of mobile apps, customers can now keep a closer eye on how they're using their energy, but more importantly, take actions to become more energy conscious and save money in the process."