How much does Ezoic pay me, a content creator, for getting 10,000 visits a month to my blog?
In this article, I'm going to tell you exactly how much money I make advertising on my blog.
Want to get involved with Ezoic or Ezoic Premium?
Get in touch with me for a fast track approval.
I'm also going to cover off the advertising platform I currently use, which is Ezoic Premium. I'll also talk about the basic Ezoic platform and Google AdSense which is another ad platform which I have used.
Ezoic vs AdSense
Ezoic and Google AdSense work very differently so it's worth understanding how you could make them work for best for you if you are a content creator.
If you are a publisher, I hope that you will find this inspirational. Maybe you get more than 10,000 his a month in which case this may all be academic.
Or maybe you get 100,000 hits per month but you haven't monetised your site.
But I expect, if you're reading this article, that you are at the beginning of your blogging journey and are perhaps only getting hundreds or a few thousand hits per month.
I have previously written on the subject of Ezoic here. This was written not long after I started using the platform. Things have moved on since then and I've breached the magic 10,000 sessions per month barrier.
10,000 sessions is the minimum number of sessions that are required before some advertising platforms will partner with you. It's also a number where you can start to make some money advertising on your website.
If you're interested in my journey, I started out this current personal finance blog in September 2018, posting 5 or 6 blog articles to get things going.
I started out posting at the rate of less than one per week, and only really had one or two blogs that brought in traffic.
What are the requirements
The requirements for getting on board with advertising platforms varies per programme.
Ezoic
Ezoic usually requires 10,000 sessions per month to get on board with. However, they may consider blogs with less than 10,000 if you are in a profitable niche and are in the US, UK, or another country with a high probability of making good earnings.
This was the case with me. I was referred to Ezoic and was accepted before I reached the 10,000 per month mark.
If you're still not at 10,000 per month and want to get started with Ezoic, drop me a line here and I can refer you to my account manager.
When you get started with Ezoic, your account manager should help you get on board. They may even help you by installing your ad placement holders.
Google AdSense
AdSense has no minimum visitor threshold, although your blog will have to go through an approval process. This can take around 10 days.
You won't get an account manager with Google AdSense. You're more or less on your own and will have to find your own way of installing your ad placements.
There is however an auto ads option which will place ads for you and you can control the density of ads on your site.
The 10,000 target
Reaching the 10,000 threshold doesn't mean that you can quit the day job. But it could be the first step towards earning a reasonable amount of cash with your blog.
Ezoic Premium
So what are the requirements for getting on board with Ezoic Premium?
Ezoic Premium is invitation only. You will have to have been an Ezoic publisher for at least three months with minimum earnings of $50 per month.
Sometimes it can take longer than three months, as in my case I signed up with Ezoic in September and wasn't invited to Ezoic Premium until the end of January, meaning that my first full month was February 2020.
It kind of goes without saying that if you have 10,000 hits per month, that the absolute bare minimum that you should be earning is $50 per month.
If you're not earning at least this amount per month with 10,000 visits then perhaps you are in a niche that isn't particularly profitable. In which case it could be tough trying to make money from your blog. And unless you get a serious amount of traffic, you could be looking at some quite paltry earnings.
Ezoic premium interface
Ezoic and Ezoic Premium have an extensive range of analytics tools that you can really get your teeth into.
Below you can see some charts and graphs which detail where my earnings come from.  Here you can drill down and see which pages, categories and ad placements are making you the most money.
One of the best features of Ezoic Premium is that you can schedule periodic site reviews with Ezoic experts. They can take you through the Ezoic dashboard and system and help you to improve your site's performance and earning capabilities.
How much am I earning?
But let's cut to the chase. How much am I earning with approximately 10,000 sessions on my site every month?
January 2021 Earnings
As you can see from the charts, in January I received 11,499 sessions on my site. This in turn led to a revenue figure of £140.16. This was the last month using the basic Ezoic package before I moved on to Ezoic Premium starting in February.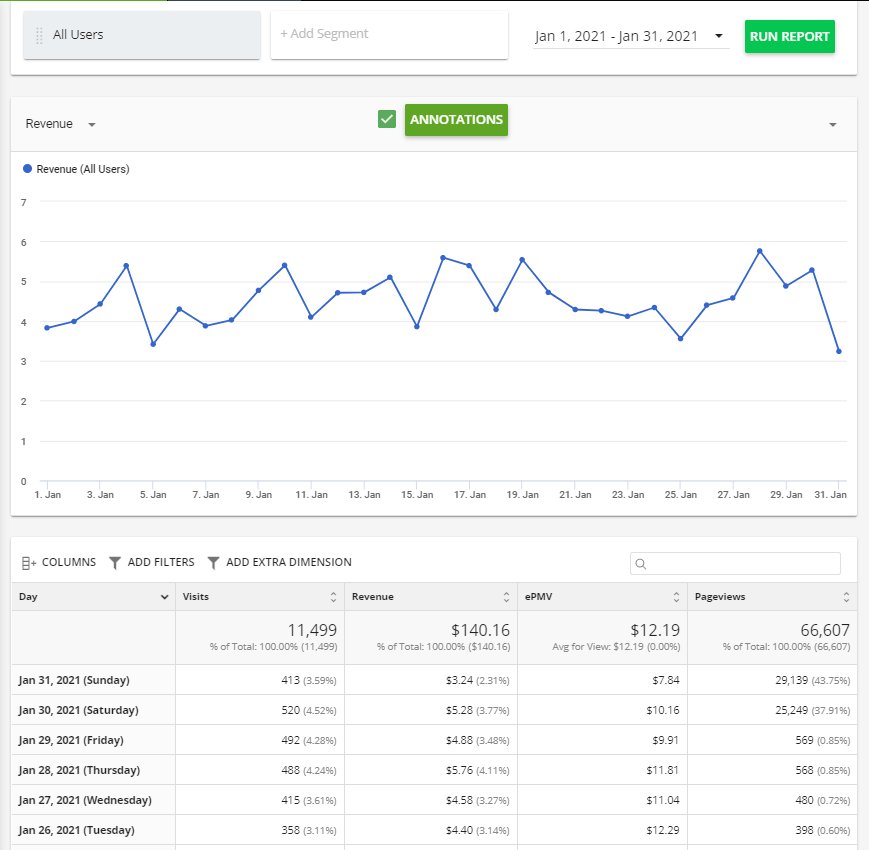 February 2021 Earnings
In February 2021 I got on board with Ezoic Premium. Breaching the $120 threshold meant that I qualified for the Growth plan. Within each plan, there are three options that a publisher can opt for. I opted for the 'Elite' option which costs $44 per month. However, you can see the boost that this plan has given to my EPMV in February and March below. For an excellent in-depth guide to Ezoic Premium, please check out Andrew from Capital Matters guide here.
March 2021 Earnings so far
Although from these figures, you can see my earnings appear to have plateaued somewhat in the first quarter of 2021, what's important to me is that my EPMV is continuing to improve.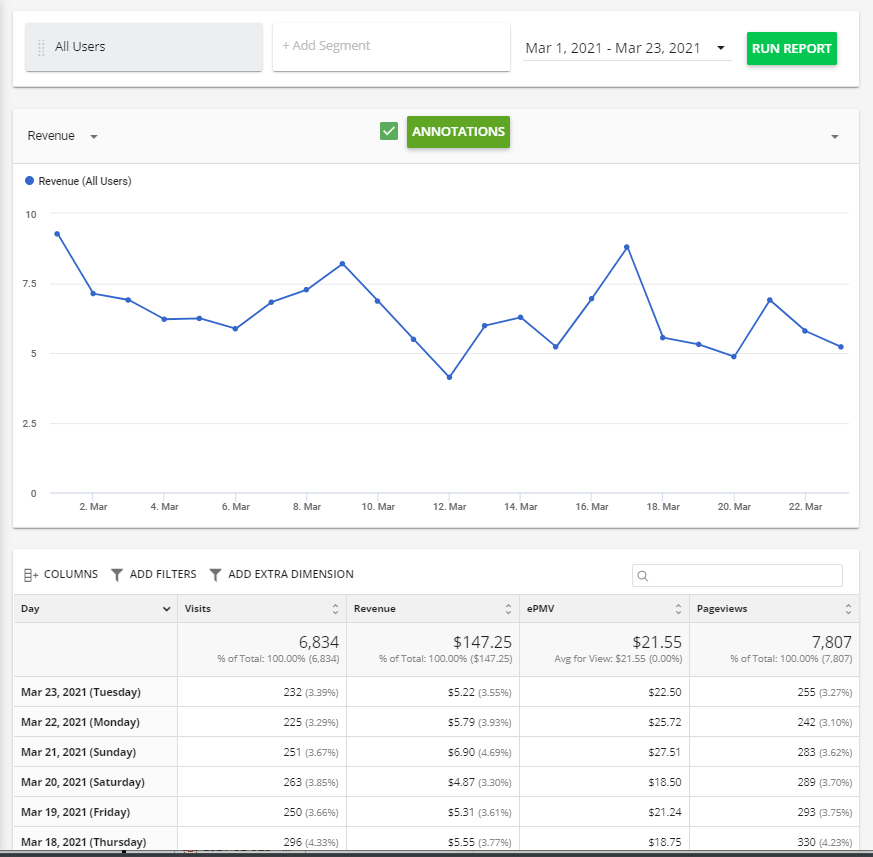 Personal finance traditionally sees a spike in visits in January. There's a lot of money chatter around on New Year's Resolutions, not to mention consumers looking at paying off credit card debts.
So if I can keep improving my EPMV, then I would like to think that when January 2022 rolls around, then my hopefully improved visitor figures will combine with further improved EPMV performance to really push my revenue higher.
I hope you have found this interesting. Where are you on the journey? Let's connect on social media, or leave your comments below. I would love to hear from you.
Want to get involved with Ezoic or Ezoic Premium? Get in touch with me for a fast track approval.