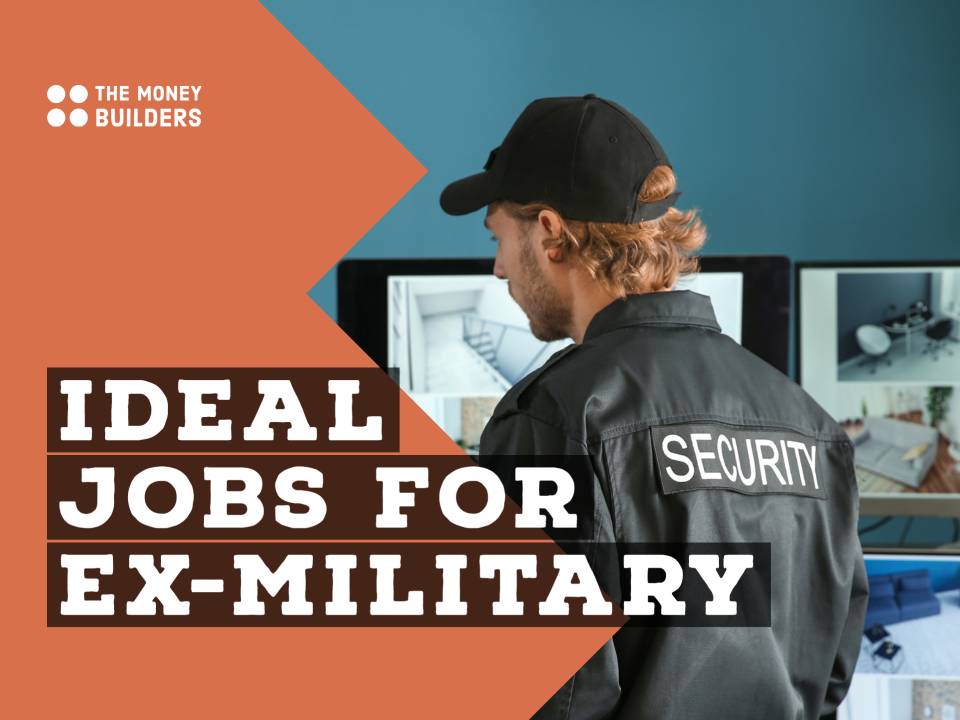 Every year thousands of military service personnel leave their roles in search of a regular role on civvy street.
If you are coming to the end of your military career or thinking of leaving, keep reading for a guide to finding the best jobs for ex-military personnel.
What are the best jobs for ex-military?
We also provide some links to resources that may help you on your job hunt.
Many veterans and ex-military leave unprepared for civilian life and are unsure of the next step in working life.   
What skills do ex-military personnel have?
Don't underestimate the skills and transferable skills you will have.   Often known as the 'best-trained workforce' ex-military can make a huge contribution to different industries in the UK – from construction, logistics, security, education, and the boardroom.
As well as your skills and qualifications, you will also have the maturity, professional development, and leadership skills sought after in many careers.
What sort of jobs can the ex-military do?
Paramedic/Health Care
You're bound to have some degree of health care experience after working in the military or armed forces.    You will also have strong communication skills and be able to work under pressure.  Expect to earn around £36,000 pa.
Security Officers
Your maturity and leadership skills will be sought after in high-end security officer roles.   There are roles within the government and private organisations such as head offices in London, that will require a mature person with control unit experience.  You may have to work shift work, sometimes alone or in a team.  You could be protecting assets or personnel.  Expect to earn around £30,000 pa.
Construction Jobs
You may well already have construction projects from your military background and your skills will be in high demand.  Your can-do attitude and strong discipline will be highly regarded within the construction field and with your experience, you could earn around £60,000 per year.
Working for the Police
Your ex-servicemen skills will be highly regarded working in the police. From working with the public to undertaking research and analysis, working on crime prevention or data analysis, working for the police could be perfect for ex-armed forces men or women.  Expect to earn around £26,994 pa with added benefits and good career progression.
Logistics Executive
A career in logistics can be ideal for ex-military personnel and you could earn around £36,700 pa.    You will be responsible for coordinating the storage, transportation, and delivery of goods.   You'll need a strong understanding of logistics already and be able to multitask and work efficiently.   
Oil and Gas Project Manager
If you already have experience working offshore then you could consider a career as an oil and gas project manager.    Your military experience will probably include experience with health and safety procedures, and you work well under pressure. You could earn up to £47,00 working as a Gas Project Manager.   
This could be an ideal career move if you are a proven team leader in the Army or Navy and someone who can motivate others to meet objectives. 
Marine Engineer
Stay connected with your military background and work as a marine engineer.   You will need marine experience working with the repair, build and testing of ships, boats and underwater equipment. 
Ideal for problem solvers, a career in marine engineering can bring you a salary of around £38,000 pa.   You will have good attention to detail and work well under pressure. 
Education/Teachers
Ex-military men and women can make fantastic teachers.   Use your motivational skills to inspire young leaders, work to deadlines and become a great leader.   You'll be used to working in groups and commanding attention but also respect from your students.  A teacher can earn up to £47,000 rising to around £57,000 for leadership roles.
Electrical Engineering jobs
Put your skills and qualifications to good use working within electrical engineering. Electrical engineering is an engineering discipline concerned with the study, design, and application of equipment, devices, and systems that use electricity, electronics, and electromagnetism.  An electrical engineer's salary rises following proven industrial experience rising to £60,000 for experienced engineers.
Research and Analysis Manager
The national average salary for a Research and Analysis is £34,357 in the United Kingdom.   Perfect for ex-intelligence officers, you will need to be good with both data and words.  Your skills will be in high demand – self-driven and attention to detail and the ability to think on your feet. If you are experienced with data analytics you could expect to earn up to £56,000 per annum in London.
Project Manager
Many ex-servicemen and women move into project management.   This role requires someone who is used to problem-solving, planning and executing projects.    Transferable skills include great communication and working to deadlines.  Depending on the industry, you could earn around £56,775 as a project manager with a military background.
Aircraft Maintenance Engineer
If you have a background working with aircraft you can certainly consider a career as a maintenance engineer.    Your experience repairing and modifying aircraft will be highly regarded, as well as your knowledge of health and safety procedures.   This role is perfect for those who enjoy troubleshooting engineering problems and who have a familiarity with computerised systems. An aircraft maintenance engineer keeps aircraft in working order through maintenance, repairs, and inspections and you may well have the qualifications required for pursuing this role.  Expect to earn an average of £46,762 pa.
Financial Manager 
If you worked within finance in the Army, Navy, or AirForce you can take these skills with you to the corporate world.  You probably have experience working in purchasing or buying departments within the military in order to sustain military missions.    These skills will be in high demand in many companies.  You may also find that working under pressure is second nature to you, which will be invaluable in an office environment.
Useful resources:
https://www.forcesrecruitment.co.uk/
https://www.ctp.org.uk/employers/ex-military-work-placements